Israel uses vultures, eagles and other carrion-eating birds to locate Hamas attack victims' remains
The article discusses how carrion-eating birds, equipped with tracking devices, have been instrumental in helping the Israeli army locate human remains following an attack by Hamas operatives.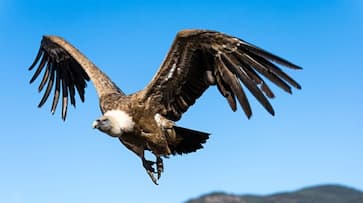 Carrion-eating birds are aiding Israel's military in the search for human remains at the scenes of the October 7 attack carried out by Hamas operatives, according to a wildlife expert participating in the project. Birds of prey, such as eagles and vultures, equipped with tracking devices, have become valuable assets in this effort. Ohad Hatzofe, representing Israel's Nature and Parks Authority, has been closely involved in this endeavour.
"When the war began I was approached by some reservists serving in that unit," said Hatzofe. "They asked me if my birds could help with something."
The concept for this initiative originated from the EITAN unit, a division within the military's human resources branch, specializing in the search for missing soldiers.
Also read: Retrieval of sperms from fallen soldiers and civilians in Israel amid Gaza war raises ethics debate
Hatzofe leads a program dedicated to monitoring endangered griffon vultures, known for their primary diet of deceased animals. Additionally, the program tracks eagles and other raptors that share similar carrion-eating habits.
The program has equipped hundreds of birds with GPS trackers, enabling the study of their migratory patterns, dietary preferences, and the environmental challenges they encounter.
On October 23, a rare sea eagle, which had recently returned to Israeli skies after spending the summer in northern Russia, was located in the vicinity of Beeri, just outside the Gaza Strip.
"I sent my data" to the army, Hatzofe said. "They went to verify it and recovered four bodies," he said, unable to reveal more about the location or identities of the corpses.
Beeri, an agricultural community and kibbutz, tragically witnessed the loss of 85 residents as Hamas operatives breached the heavily fortified border, orchestrating what became the most devastating attack since the establishment of Israel in 1948.
Israeli authorities have reported that over 1,400 individuals, predominantly civilians, lost their lives in the attack.
In their determination to eliminate Hamas, Israel responded with a relentless campaign involving both aerial bombardments and a ground invasion. According to Gaza's Hamas-run health ministry, this response has resulted in the deaths of over 10,500 individuals, the majority of whom were civilians.
Also read: Hamas' top 3 leaders are worth staggering $11 billion; raises questions over lavish lifestyle as Gaza suffers
Within Beeri, an additional 30 individuals remain missing or are assumed to be among the approximately 240 hostages taken by Hamas during their assault.
Hatzofe revealed that information obtained from a second bird, a Bonelli's eagle, played a crucial role in locating "other bodies inside Israel."
As of Monday, Israeli law enforcement announced the identification of a combined total of 843 civilian and 351 military personnel's remains.
Even over a month after the Hamas attack, dozens of individuals who were designated as missing have yet to be located or identified.
Last Updated Nov 9, 2023, 9:01 PM IST