Retrieval of sperms from fallen soldiers and civilians in Israel amid Gaza war raises ethics debate
Israel's Health Ministry allows posthumous sperm retrieval amid conflict with Hamas, bypassing legal procedures for fallen soldiers and civilians and prompting ethical and societal discussions.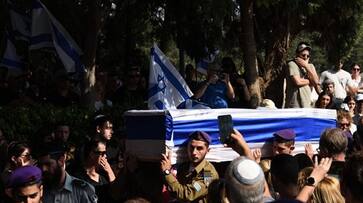 Amid the ongoing war against Hamas, Israel's Health Ministry has reportedly allowed parents to bypass standard legal procedures to facilitate the retrieval of sperm from their deceased sons, either fallen soldiers or civilian casualties in the ongoing conflict. As reported by Haaretz, within the past month, sperm from 33 men has been collected—four civilians and the remainder soldiers.
Typically, in regular circumstances, posthumous sperm retrieval (PSR) is permissible in Israel upon the request of a widow without the need for legal formalities. However, when parents wish to preserve their deceased son's sperm, a court order was previously required. This prerequisite has been reportedly temporarily waived.
Also read: Hamas' top 3 leaders are worth staggering $11 billion; raises questions over lavish lifestyle as Gaza suffers
A dedicated unit established by the Israel Health Ministry operates around the clock in collaboration with the Israel Defense Forces (IDF) and four hospitals housing sperm banks: Ichilov, Sheba, Shamir (Assaf Harofeh), and Beilinson. This unit informs families about the option of PSR and expedites the process immediately following the death of their son or spouse.
For viable preservation, the retrieval of sperm should ideally occur within 24 hours after death. This increases the likelihood of its successful use for fertilization after being thawed. However, experts note that PSR can still be performed even several days after death when the sperm is no longer mobile.
Dr. Yuval Or, head of the IVF unit at Kaplan Medical Center, emphasized the preference for motile sperm but clarified that immobility does not indicate nonviability. Techniques exist to stimulate movement after thawing.
"We look for and prefer sperm that are moving. But even sperm that is not motile does not mean that it is not alive. We know how to make it move after it is unfrozen," Dr. Yuval Or told Times of Israel.
Also read: 1,493 hand grenades, 760 RPGs, 427 explosive belts & more: Israel exposes Hamas' chilling arsenal (WATCH)
Earlier, Filmmaker Shaylee Atary had aspired to retrieve sperm from her husband, Yahav Winner, but due to the delay in finding and identifying his body, the sperm had become unusable when it was finally recovered.
Gil Siegal, head of the Center for Medical Law, Bioethics, and Health Policy at Ono Academic College, earlier expressed, "It's not surprising that this is impossible in most countries. It is in a child's best interests to be born to living parents and not in a state of planned orphanhood. My heart goes out to bereaved parents, but the discourse around fertility and birth must start with mother-father-child, not grandmother-grandfather-child. When you retrieve sperm from a dead man, you are trying to restore something lost under tragic circumstances. It's like erecting a living monument."
Last Updated Nov 9, 2023, 3:42 PM IST