Will Messi come back for another Ballon d'Or? Argentina hero reveals future plans after claiming 8th award
Lionel Messi celebrates eighth Ballon d'Or win after leading Argentina to World Cup 2022 victory, reflects on past season, and shares future plans in football.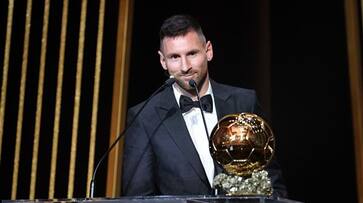 Legendary footballer Lionel Messi secured his eighth Ballon d'Or trophy on Monday night, following his remarkable achievements leading Argentina to victory at the 2022 World Cup in Qatar. The 36-year-old, who succeeded former Real Madrid superstar Karim Benzema as winner of the coveted prize, expressed immense joy in winning the prestigious award, emphasising the special significance of clinching the Ballon d'Or after securing the World Cup title.
"The last one I won was also thanks to what we achieved with the Argentine national team in the Copa America (in 2021), but this one is much more special because it comes after we won the World Cup," Messi told various media after collecting his award at the 2023 ceremony in Paris.
Also read: 'Haaland robbed': Fans fume after Argentina hero Lionel Messi beats Man City star to win 8th Ballon d'Or
"That is the trophy everyone wants to win the most, and it was a dream come true for me, my teammates and my country," the Inter Miami star added.
Messi propelled Argentina to victory in Qatar, marking a pinnacle in his illustrious career and edging out strong contenders such as Kylian Mbappe and Erling Haaland for the Ballon d'Or. The Manchester City striker secured second place in the final voting, with the Paris Saint-Germain (PSG) superstar in third and City's Kevin De Bruyne in fourth.
Messi, a former Barcelona superstar, netted seven goals during the World Cup and earned the title of the tournament's best player after Argentina's triumph over France in the final held in Doha, settled via penalties. Yet Messi, who clinched his first Ballon d'Or award in 2009, experienced a lackluster final season at PSG before departing to join Major League Soccer's Inter Miami.
After claiming his 8th Ballon d'Or, Messi downplayed the idea of winning future more of the coveted prize and emphasised his focus is on enjoying the present and preparing for the upcoming Copa America.
"I am not thinking about the long-term future. I am just enjoying the day to day at the moment," he said. "We have a Copa America coming up in the United States, where I am now, in which we are the holders, so I am looking forward to coming into that in good shape and then just see how I am getting on from there."
Also read: Lionel Messi wins record-extending 8th Ballon d'Or; says Haaland, Mbappe will win award one day (WATCH)
Despite the mixed experiences at PSG, Messi expressed his affection for the city and the pleasant memories of living there. He acknowledged the football aspect didn't meet his expectations but chose to cherish the positive aspects of his time in Paris.
"Things didn't turn out as I hoped but I enjoyed the city a lot, and my kids liked it a lot and found it hard to leave," he said. "It is a spectacular city and I was lucky to live here. Football-wise it did not go the way I hoped but I prefer to remember the many good things."
Last Updated Oct 31, 2023, 12:22 PM IST