'Haaland robbed': Fans fume after Argentina hero Lionel Messi beats Man City star to win 8th Ballon d'Or
Argentina hero Lionel Messi clinched his record-extending eighth Ballon d'Or award at the 2023 ceremony in Paris, beating Manchester City striker Erling Haaland to the coveted prize.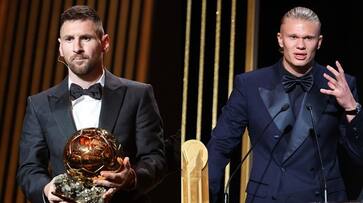 Argentina hero Lionel Messi won his record-extending eighth Men's Ballon d'Or award at a glittering 2023 ceremony in Paris on Monday following an outstanding season that saw the legendary footballer lead his country to World Cup glory in Qatar last year. Prior to his move to Inter Miami in the summer, the 36-year-old orchestrated Argentina's win at the 2022 World Cup, netting two crucial goals during the final match and also scoring during a penalty shoot-out, securing victory over the 2018 champions, France. Additionally, he impressively scored 32 goals in 55 games across all competitions for PSG, significantly contributing to the team's attainment of the Ligue 1 title.
The four-time Champions League winner triumphed over stiff competition, securing the first-place position, with Erling Haaland taking second, Kylian Mbappe in third, and Kevin De Bruyne ranking fourth.
The decision to hand the award to Messi, following his win in 2021, wasn't without controversy, with some fans stating that the Argentinian 'robbed' Haaland of the Ballon d'Or 2023 trophy. Erling Haaland's incredible performance, with 52 goals in 53 games, was instrumental in Manchester City's triumph in the Premier League, FA Cup, and Champions League treble.
Meanwhile, Messi's former teammate at Paris Saint-Germain, Kylian Mbappe, who was also a strong contender for the Ballon d'Or 2023 award, scored 41 goals as PSG retained the Ligue 1 title, even though France succumbed to Messi's Argentina in the World Cup final.
Also read: Lionel Messi wins record-extending 8th Ballon d'Or; says Haaland, Mbappe will win award one day (WATCH)
During the ceremony in Paris, Messi acknowledged these successors and emphasized that in the future, both players will have their opportunity to vie for the prestigious accolade in football. "This Ballon d'Or is a gift for all of Argentina. But, I don't want to forget Haaland or Mbappe, who had a great year, spectacular, and in the coming years they will win this award," he said.
"The level never goes down, I've been lucky to be here for many years. I want to give special mention to all those people who were happy that Argentina were world champion. Thanks also to all my family, my wife, my children, for being there in the worst moments, and helping me to fulfil my dreams in football. Without you it would not have been possible," Messi added.
Although Erling Haaland won the Gerd Muller 2023 trophy and Manchester City bagged the 'Best Team 2023' award, fans of the Premier League defending champions were miffed with Messi bagging the Ballon d'Or 2023 award once again.
"The Muller trophy has only appeared 2 times. Once in 2021 when Messi robbed Lewandowski and now in 2023 when Messi robbed Haaland, it wasn't present in 2022," said one angry user on X.
Another user noted, "Haaland deserved to win the ballon d'or. He, as everybody knows, has been a phenomenal player this year and been the best goalscorer in the world. So yes, I agree he's been robbed. The 4th time Messi has robbed a more worthy winner."
A third X user stated, "Even Messi says that Haaland deserves it more than him, he knows that Erling was robbed of this trophy."
Here's a look at some of the reactions of Manchester City and football fans who believe Haaland deserved to win Ballon d'Or 2023 award and not Messi:
Last Updated Oct 31, 2023, 7:01 AM IST