Lionel Messi wins record-extending 8th Ballon d'Or; says Haaland, Mbappe will win award one day (WATCH)
Argentina's 2022 World Cup-winning captain Lionel Messi bagged a record-extending eighth Ballon d'Or trophy at a glittering event in Paris on Monday.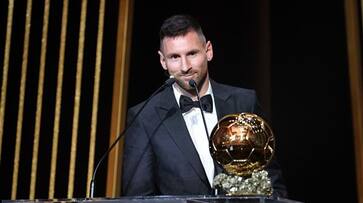 Argentina hero Lionel Messi secured his eighth Ballon d'Or award at the 2023 ceremony in Paris after an exceptional season. The 36-year-old maestro, before his move to Inter Miami, orchestrated Argentina's World Cup 2022 victory in Qatar. His standout performance included scoring twice in the final, where he also netted during a crucial penalty shootout against 2018 winners France.
At Paris Saint-Germain (PSG), Messi contributed significantly, tallying 32 goals across 55 appearances in various competitions, aiding in the team's Ligue 1 title win.
David Beckham, co-owner of Inter Miami, presented Messi with the esteemed award at the Theatre du Chatelet in Paris, receiving a standing ovation from the crowd.
Expressing his feelings, Messi stated, "Thank you very much. First of all, I want to thank the people who voted, who selected me as the winner of this award. I obviously share this with my teammates from the Argentina national team — we are here representing everything that's been achieved thanks to them. I believe that this is a gift for the entire group, the entire coaching staff, and for all the people of Argentina."
"I don't want to forget to mention Erling [Haaland] and Kylian [Mbappe], they had a great year, an incredible year, both individually and collectively. It was spectacular to watch them achieve everything they did, and I have no doubt that in the coming years they are going to win this prize," the Argentinian added.
"I see a lot of young people here. I have no doubt that I am going to enjoy good football for a long time because of these types of players. I am lucky to have been at this ceremony for many years, and as the players keep changing and evolving, the level never drops, so we are going to continue enjoying it for many years," he further stated.
"I want to make special mention to those who have followed me throughout my career, because of how they experienced this World Cup. The desire they had for me to be world champion so that I can achieve my dream, the only one which I was missing... It was thanks to God that I received a lot of love, which was very special as many people of different nationalities wanted Argentina to be world champions. I want to share and thank my families, the fans who are in Argentina and those in Miami, and of course my personal family, my wife and children once again," Messi said.
Messi finished his speech by wishing a happy birthday to the late Diego Maradona.
Speaking on Messi, David Beckham said, "It's very special to say he's a Miami player and he's in our city. He'll celebrate this with his team-mates and his family in his way. We'll do our best to celebrate it in the Miami way. I'm sure we can do a good party."
Messi secured first place in the Ballon d'Or rankings, surpassing competitors Erling Haaland (second), Kylian Mbappe (third), and Kevin De Bruyne (fourth). Notably, seven Manchester City players featured in the top rankings, with Haaland, De Bruyne, Rodri, Julian Alvarez, and Bernardo Silva making the top ten.
Aitana Bonmati wins women's Ballon d'Or 2023
Aitana Bonmati secured the women's Ballon d'Or following her instrumental role in leading Spain to World Cup victory, where her stellar performances earned her the tournament's Player of the Series title. Beyond her international success, the Barcelona midfielder contributed significantly to her club's achievements. She played a crucial part in securing Barcelona's fourth consecutive Liga F title and also contributed to their win in the women's Champions League, marking their second European triumph in the last three seasons.
"I'm very proud to win the Ballon d'Or. Football is a collective sport so I'd like to extend this prize to my team-mates and staff. As role models we have a responsibility on and off the pitch," Bonmati said.
"We should be more than athletes and keep leading by example and fighting together for a better, peaceful and equal world. Finally congratulations to the other nominees. They're great footballers," she added.
Man City bags Best Team award; Haaland wins Gerd Muller Trophy
Manchester City also claimed the Best Team award, emphasizing their remarkable achievements across various competitions.
Haaland received the Gerd Muller Trophy for the best striker after a phenomenal 52-goal season, aiding City in securing the Premier League, FA Cup, and Champions League titles. He credited his success to the team's support and his passion for scoring goals.
"It's a mix between having amazing team-mates and an amazing club from the physios to the coaches it's a good mix of a lot of teams," said Haaland. "The passes I get from some of them sitting here tonight too. It's a mix between a lot of things and I'm here to try to help the team."
Drogba asked Haaland if he had any tips on how to score goals to which the Man City striker responded, "I mean it's my job so that's why I'm here now because that's what I'm good at. My advice is to stay hungry and try and stay in the moment and to stay sharp. You want to score and have this feeling, as I had quite a few times last season. And that's why I want to do it more."
Vinicius Jr secured sixth place in the Ballon d'Or rankings and received the Socrates award for his work in combating racism off the field. Napoli's Victor Osimhen and Real Madrid's Luka Modric also featured in the top ten, with Modric narrowly surpassing Liverpool's Mohamed Salah.
Several Premier League stars were recognized, with the likes of Bukayo Saka, Martin Odegaard, Harry Kane, Jude Bellingham, and Emiliano Martinez placing within the top 30.
Argentina's goalkeeper Martinez wins Yashin 2023 award
Emiliano Martinez's ranking at 15th sparked controversy when he received the Yashin award amid some fans' disapproval. Drogba intervened, urging respect for the Argentine World Cup winner.
Notable football figures like Ilkay Gundogan and Karim Benzema secured respectable positions in the rankings, further highlighting the diverse talent recognized at the prestigious event.
Last Updated Oct 31, 2023, 6:25 AM IST