Will Lucas Roman become Barcelona's next Lionel Messi? Fans give ultimate verdict
Argentinian forward Lucas Roman has joined from Ferro, with the teenager to play with Rafael Marquez's Barca Atletic side initially. According to the club, the wonderkid reminds them of legendary forward Lionel Messi.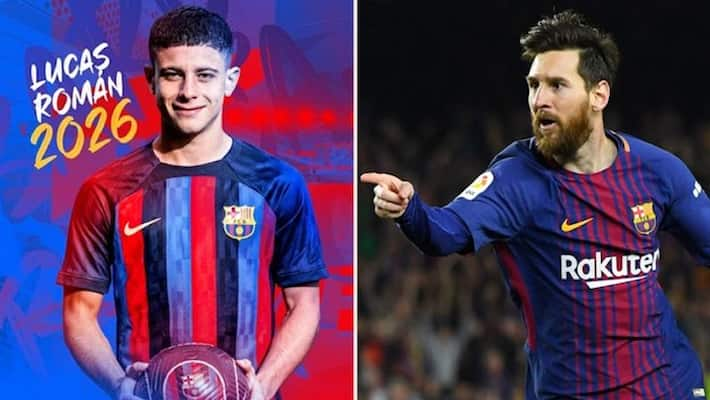 Legendary Argentinean Lionel Messi is one of Barcelona's finest players. Although the 35-year-old superstar has been playing for Paris Saint-Germain (PSG) since the summer of 2021, the seven-time Ballon d'Or winner remains Camp Nou's all-time leading goal-scorer and also bagged a plethora of honours during his journey.
Before leaving for the French giants, Messi played for Barcelona for over 20 years after joining from Newell's Old Boys in his native Argentina in 2000. Following his departure from the Catalan club, the team struggled initially. However, the La Liga giants are regaining their footing under coach Xavi Hernandez and various sensational players.
Also read: PSG beat Riyadh XI 5-4: Fans witness Messi magic, Ronaldo's Siuu, red card, Mbappe penalty & more in thriller
Barcelona has only made one signing this summer, and it feels a little familiar. Argentine forward Lucas Roman has transferred from Ferro, and the youngster will first play for Rafael Marquez's Barca Atletic team.
Barcelona rated Roman highly, and Ferro President Daniel Pandolfi told MARCA that the La Liga giants had told him their new acquisition reminded them of the great Lionel Messi.
"What they told me in Barcelona is that they saw things in 16-year-old Roman that were like (Lionel) Messi."
Barcelona will undoubtedly hope their new addition can impact the team as Messi did while he was a member.
"I can name 100 players that they've said this about," noted one fan of the Catalan club, while another added, "He is a real crack and I placed a lot of hopes on him. wait & see!"
"How many players have been compared to Messi? They all failed. Please don't compare players with the GOAT. It puts unnecessary pressure," said a third fan of the club.
A fourth Barcelona fan noted, "No need to compare him to Messi let him build his own career and legacy. Constant comparisons won't help him. Messi is a once-in-a-lifetime unique talent, and there is only 1 Messi, just like only 1 Pele 1 Maradona 1 Cryuff 1 Modric 1 CR7 etc."
Also read: Amitabh Bachchan meets 'G.O.A.T.s' Ronaldo and Messi; fans elated to see Big B at Riyadh XI vs PSG friendly
Another fan commented, "One of the problems with Barça fans that's not being talked abt often is how we compare prospects with Barca greats. We're still stuck in that beautiful era & always want someone to be the new this, the new that. Let the kid write his own story. Let him be d best version of himself."
Here's a look at what other fans had to say when comparisons between Roman and Messi surfaced:
Last Updated Jan 22, 2023, 2:37 PM IST