Amitabh Bachchan meets 'G.O.A.T.s' Ronaldo and Messi; fans elated to see Big B at Riyadh XI vs PSG friendly
Bollywood legend Amitabh Bachchan, who is in Riyadh to witness the friendly between a combined XI of Al-Nassr and Al-Hilal against PSG, greeted Cristiano Ronaldo and Lionel Messi ahead of the clash at King Fahd Stadium.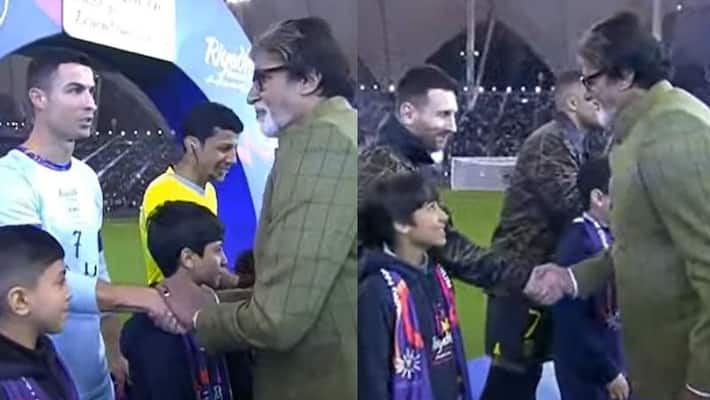 Bollywood legend Amitabh Bachchan surprised Indian football fans with his presence in Riyadh for the high-octane clash between football's greatest rivalry - Cristiano Ronaldo vs Lionel Messi. Big B, an avid fan of the sport, made his way to the King Fahd Stadium in the Saudi Arabian capital city to witness the friendly clash between a combined XI of Al-Nassr and Al-Hilal stars against Paris Saint-Germain (PSG) on Thursday.
Also read: Ronaldo vs Messi: Meet Mushref al-Ghamdi, the Saudi mogul who paid Rs 21 crore for special ticket
Before meeting the Riyadh XI and PSG stars, Amitabh Bachchan was in conversation with Qatari businessman and PSG President Nasser Al-Khelaifi and Chairman of Riyadh Season Turki Al-Sheikh, sparking massive excitement among Indian football fans. The Shehshah of Bollywood then walked towards the playing XI of both sides and greeted every player lined up for the Riyadh All-Star XI vs PSG clash.
Amitabh Bachchan first met with the PSG stars and chatted with Argentina's World Cup 2022-winning captain, Messi. The iconic Bollywood star also exchanged greetings with other PSG players, including French sensation Kylian Mbappe and Brazilian forward Neymar. The actor then shook hands with the kids lined up in front of the players before moving on to the referees of the friendly clash.
Next up, Amitabh Bachchan went over to greet the combined XI of Al-Nassr and Al-Hilal stars. Big B exchanged a few words with Riyadh XI captain Ronaldo before wishing the rest of the players luck for the game.
Amitabh Bachchan's presence in Riyadh for the Ronaldo vs Messi encounter and his meeting with the two football legends sent social media into a tizzy, with most fans applauding the moment G.O.A.T. met with G.O.A.T.s!
"Despite India not having an average football team, the amount of respect Bollywood is starting to get in the football world is surprising and pleasing. First Nora Fatehi in Qatar and now Amitabh Bachchan in Riyadh," noted one fan on Twitter.
Another added, "Legendary actor Amitabh Bachchan meeting the 2 GOATS - Cristiano Ronaldo and Lionel Messi at Riyadh! Who would have thought?"
Also read: Ronaldo vs Messi blockbuster in Saudi Arabia: Revisiting 6 most memorable clashes
Here's a look at some of the reactions:
Last Updated Jan 19, 2023, 11:16 PM IST