EPL 2022-23: 'We are far away from the team that we were' - Guardiola on City despite Tottenham success
EPL 2022-23: Manchester City came up with a booming performance to dominate Tottenham Hotspur 4-2 at home on Thursday. However, the hosts' boss Pep Guardiola still feels that his side needs to be closer to the force it was.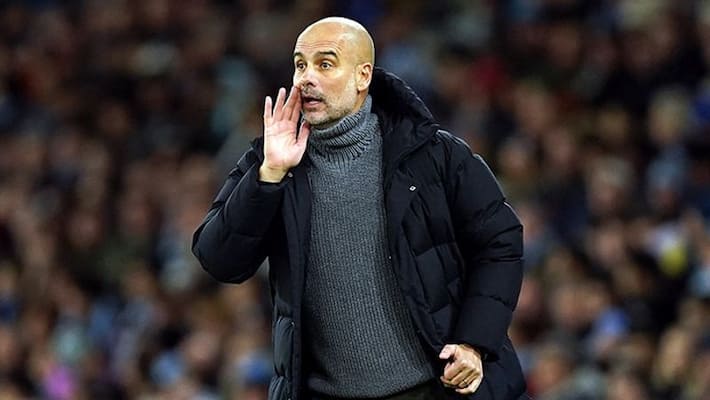 Defending champion Manchester City hosted fifth-placed Tottenham Hotspur in a 2022-23 English Premier League (EPL) meeting on Thursday. It was a formidable performance from the hosts, as they won 4-2 to extend their lead at the second spot. It all began excitingly, with Dejan Kulusevski (44) and Emerson Royal (45+2) putting the visitors ahead at half-time. However, the Cityzens struck back in the second half with four goals from Julián Álvarez (51), Erling Haaland (53) and Riyad Mahrez (63 & 90). While following the triumph, City head coach Pep Guardiola was happy with his team's performance; he reckoned that it is still lagging in terms of the force it was last season.
Talking to Sky Sports after the conquest, Guardiola enunciated, "We have to prepare better. I cannot deny how happy we are, but we are far away from the team that we were. Not in terms of play – we played well – but there are many other things, like competitiveness. We gave them the first goal. The second goal is ridiculous. There's nothing from the stomach, from the guts."
ALSO READ: Mbappe wins hearts as PSG star inspects 'idol' Ronaldo's bruise during thrilling friendly against Riyadh XI
"We were lucky, but we will drop more points if we don't change—passion, fire and desire to want to win from the first minute. Our fans were silent for 45 minutes. They booed because we were losing, but in the second half, we played well. We had more chances," added Guardiola.
"Maybe it's the same with our team. We may be comfortable with winning four Premier Leagues in five years. We have an opponent in Arsenal who have the fire. Two decades without winning the Premier League. Everything is so comfortable, but opponents don't wait," Guardiola further analysed.
ALSO READ: PSG beat Riyadh XI 5-4 - Fans witness Messi magic, Ronaldo's Siuu, red card, Mbappe penalty & more in thriller
"I don't recognise my team. It [previously] had the passion and desire to run. We are far away from the team we had in previous seasons. Do you think this comeback will happen every time? It won't. Today we were lucky. If we want to win something or compete, then by complaining, complaining, complaining, there is no chance we will win anything," continued Guardiola.
"It's my duty, it's my job [to get the fans' support back]. I want my fans back. I want my fans here – not my away fans, they are the best – but my fans here. They need to support every corner and every action because Tottenham is one of the toughest opponents I've ever faced.," Guardiola concluded.
Last Updated Jan 20, 2023, 2:45 PM IST