15 must-have dishes during iftar amid Ramadan
Let's take a look at few of the many delicious dishes that are enjoyed during iftar in Ramadan.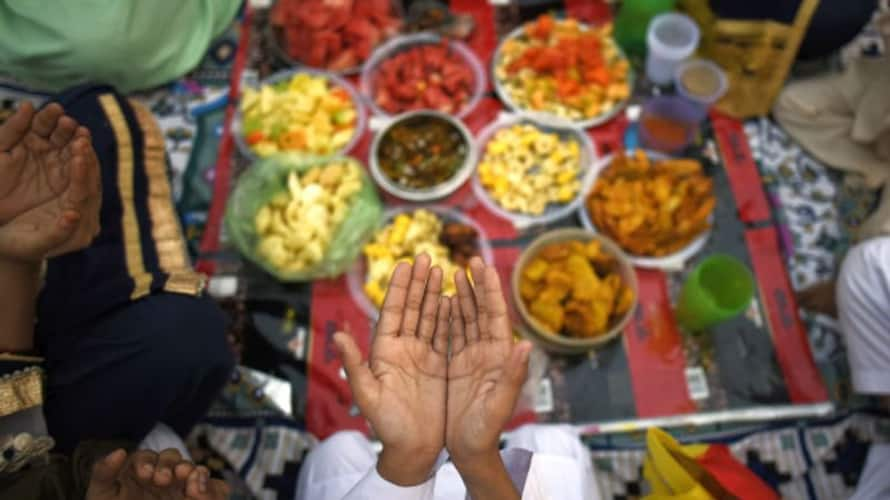 Iftar is the meal that Muslims have at sunset to break their fast during the month of Ramadan. Here are 15 must-have dishes that are commonly enjoyed during iftar:
Dates: Dates are traditionally the first food Muslims eat to break their fast.
Rooh Afza: A popular drink made from a concentrate of fruits, herbs, and flowers. It is a refreshing drink that is perfect for breaking the fast.
Pakoras: Deep-fried fritters made from gram flour and a variety of vegetables, such as onions, potatoes, and spinach.
Samosas: Triangular pastries filled with spiced potatoes, peas, and meat.
Fruit Chaat: A fruit salad made with a mix of seasonal fruits, chaat masala, and lemon juice.
Chana Chaat: A spicy chickpea salad with potatoes, onions, and chaat masala.
Haleem: A slow-cooked dish made with meat, lentils, and wheat.
Biryani: A fragrant rice dish cooked with meat, spices, and sometimes vegetables.
Kebabs: Grilled or skewered meat, such as seekh kebabs or shami kebabs.
Nihari: A slow-cooked meat stew made with beef or lamb, spices, and bone marrow.
Chicken Karahi: A spicy tomato-based curry made with chicken and fresh herbs.
Tandoori Chicken: Chicken marinated in yoghurt and spices, then grilled in a tandoor oven.
Roast Lamb: Lamb roasted with spices and served with gravy.
Dahi Baray: Deep-fried lentil dumplings soaked in yoghurt and topped with chutney.
Sheer Khurma: A sweet, milk-based dessert made with vermicelli, dates, and nuts.
These are just a few of the many delicious dishes that are enjoyed during iftar in Ramadan.
Also Read: Ramadan 2023: Breaking the norm, women to read Taraweeh in Mumbai mosque
Also Read: Ramadan: What to eat for Iftar, health tips you should follow
Last Updated Mar 23, 2023, 4:18 PM IST