Michael Jackson's iconic Pepsi Ad jacket from 1984 sold for Rs 2.5 crore; read details
Late pop singer Michael Jackson's famous leather jacket from a 1984 commercial sold for more than $300,000 (Rs 2.5 crore) at auction. The auction happened in London, where fans and collectors gathered jointly for a piece of music history associated with the King of Pop.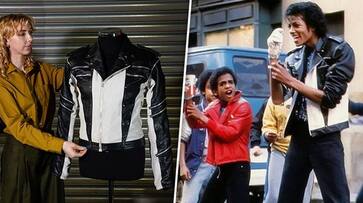 At a recent auction in London, a famous black-and-white leather jacket once owned by the late Michael Jackson brought in $306,000 (about Rs 2.5 lakh). It was worn by the late pop singer in a Pepsi commercial from 1984, over forty years ago. According to the BBC, fans and collectors flocked to London for the auction, where they were treated to a piece of music history connected to the King of Pop.
Propstore, an auction house, advertised Michael Jackson's jacket. According to BBC News, the auction included more than 200 items of music memorabilia associated with other music icons, including an Elvis, David Bowie, hairpiece from Amy Winehouse, and George Michael's blazer. A limited edition Yellow Submarine Beatles jukebox and a Gibson guitar that belonged to AC/DC's Angus Young were also there. These two failed to sell.
Also Read: 'Tiger 3' box office collection Day 2: Yash Raj's spy thriller enters Rs 100 crore club
In the meanwhile, Jackson's hair caught fire during the 1984 advertisement in which he wore the jacket, leaving him severely burned. This incident made Jackson famous. At the time, the jacket up for auction was not on him. Subsequently, Michael claimed that his addiction to prescription medication was initiated by the pain medication he was administered for his injuries.
On June 25, 2009, Michael Jackson passed away from acute propofol and benzodiazepine intoxication, following a cardiac collapse, while getting ready for his "This Is It" concert series.
Also Read: Mahadev app case: Mumbai police files FIR against 'Style' actor Sahil Khan, details here
He was born on August 29, 1958, into a working-class family in Gary, Indiana, an industrial suburb of Chicago, Illinois. He was the eighth of nine children born to Joseph Walter "Joe" and Katherine Esther (née Scruse).
Last Updated Nov 14, 2023, 11:50 AM IST