Bigg Boss 17: Is Ankita Lokhande pregnant? Actress undergoes pregnancy test; makes shocking revelation
Bigg Boss 17 update: Ankita Lokhande was observed telling her husband, Vicky Jain, that she had taken pregnancy tests and that her emotions were fluctuating. She expressed that she wished to leave the house. Amidst all this, we saw Ankita Lokhande's mood swings as well.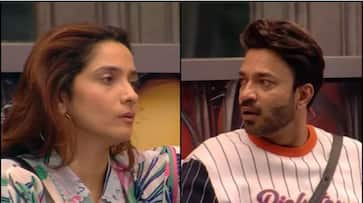 Since the beginning, Bigg Boss 17 has been in the headlines. The programme has had incredible TRPs, and this season, Ankita Lokhande and her spouse Vicky Jain, joined the cast. They are presently the talk of the town, and many fights are breaking out amongst them. Ankita and Vicky, who were in the Bigg Boss Dil house, have been doing brilliantly. 
Although Ankita gives her everything on the pitch, Vicky is this season's strategist. We just witnessed Bigg Boss rearrange the competitors. Ankita is in the Dil department and he placed Vicky Jain in the dimaag home. Ankita felt sad and angry about it. Bigg Boss informed her that Vicky was dancing and really happy in the dimaag house.
Also Read: Anupamaa: Rupali Ganguly, Gaurav Khanna to face old villain; shocking twist to look for
Vicky's excessive happiness at being apart from Ankita infuriated her. She informed him that he must now disregard the fact that they are wed. She went so far as to claim that marrying him ruined her life. 
Ankita Lokhande's mood swings
She informed him that she felt mistreated by him throughout this game and that she was angry. She said she wanted to get out of the house. We also witnessed Ankita Lokhande's mood swings during all of this. Sometimes she would be pleased, and then she would become angry right away. 
She was also observed telling Jigna and Rinku that she was craving "khatta." Then, Jigna and Rinku make fun of her pregnancy. Vicky chose not to say anything about it until she later informed him that she would have to battle for his attention. He informed her that she constantly silences him and makes fun of him in public.
Also Read: Jai Ganesh: Unni Mukundan, Mahima Nambiar starrer first look poster OUT
Ankita Lokhande is pregnant?
Then, Ankita informs him that she is feeling under the weather and has a gut feeling that something is off. She tells him she wants to go home since she hasn't had her period. Ankita also disclosed that she had blood tests to determine whether or not she is pregnant. She adds that the urine tests were performed by the physicians as well. 
She continued by saying that she is experiencing ups and downs in her emotions and that she cannot define what is occurring. There will likely be positive news in the show. And Vicky asks her why she never allows him to defend himself. Ankita tells him that she needs him, so please give her some time each day.
Last Updated Nov 16, 2023, 1:50 PM IST