ODI World Cup 2023: Australia achieves a record-breaking 10-over score in the powerplay against New Zealand
In a historic moment, Australia's cricket team has achieved a remarkable feat by setting the record for the highest ten-over score in the powerplay era of the Cricket World Cup.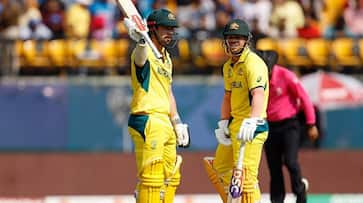 Australia's commanding total of 118-0 during the first ten overs of their World Cup ODI against New Zealand at Dharamsala is a historic achievement. This formidable score sets a new benchmark for the highest ever ten-over total in the powerplay era of the Cricket World Cup. David Warner and fellow opener Travis Head went all guns blazing right from the fitst ball of the match and the aggression just grew with every over, at one stage Australia looked like they could get to a score of 450 plus but New Zealand have pegged them back well.
It's worth noting that the previous all-time record of 118-1 was held jointly by the West Indies, achieved during their clash against Canada in the 2003 World Cup. However, it's essential to emphasise that the powerplay era, marked by fielding restrictions and specific regulations, only commenced in 2005. This context underscores the significance of Australia's dominant performance, showcasing their prowess and adaptability in the modern era of ODI cricket.
Also Read: ODI World Cup 2023: Harbhajan Singh calls for umpiring rule change after Pakistan's loss to South Africa
Last Updated Oct 28, 2023, 1:39 PM IST