BREAKING: White House says Israel will begin daily four-hour pauses in northern Gaza amid war
The US understands that Israel will begin to implement four-hour pauses in areas of northern Gaza each day, White House spokesman John Kirby has told reporters on Thursday.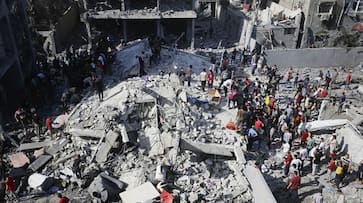 Amid the ongoing Israel-Hamas war, the White House national security spokesperson, John Kirby, told reporters on Thursday that the United States has been informed by Israel about the commencement of four-hour pauses in specific areas of northern Gaza. He added that the pauses will begin today to allow people to flee hostilities and for deliveries of humanitarian aid. Kirby stated that there would be a three-hour notice before each announcement.
The pauses resulted from discussions between US and Israel officials in recent days, including between Joe Biden and Benjamin Netanyahu, Kirby noted.
"We've been told by the Israelis that there will be no military operations in these areas over the duration of the pause, and that this process is starting today," he said.
"We understand that Israel will begin to implement four-hour pauses in areas of northern Gaza with an announcement to come three hours in advance," Kirby added.
Also read: Israel-Hamas war: Did Benjamin Netanyahu reject 5-day ceasefire-for-hostages deal in Gaza?
He described the news as "significant first steps" and that the US would "want to see them continued for as long as they are needed".
Kirby further stated that a ceasefire between Israel and Hamas terrorists is not in order because it would help the Hamas and "legitimise what they did on 7 October and we simply are not going to stand for that at this time."
Previously, the Israeli military delineated these interruptions as "tactical, local pauses" specifically designed to facilitate the delivery of humanitarian aid to civilians in Gaza. They clarified that these pauses did not constitute a ceasefire.
Last Updated Nov 9, 2023, 9:53 PM IST