'We must all stand united against it': PM Trudeau after overnight shootings at Jewish schools
The Montreal police force (SPVM) is investigating after two Jewish schools in Montreal were hit with gunshots overnight. Authorities believe the gunshots were fired overnight. No one was in the building at the time of the shooting and no one was injured.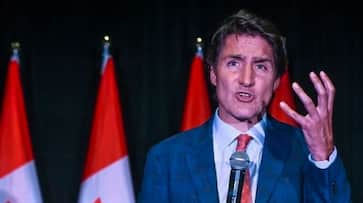 Amidst escalating tensions in the nation over the Israel-Hamas conflict, authorities in Montreal, Canada, reported on Thursday that gunshots had struck two Jewish schools in the city over night. Investigators said they were looking into incidents that happened at night. According to local media, both schools reported discovering a gunshot hole in their front doors on Thursday morning.
During a visit to Montreal, Prime Minister Justin Trudeau said, "I know emotions are high, and people are scared. But attacking each other is not who we are as Canadians, If anywhere in the world is going to start building the kinds of understandings that we're going to need to see peaceful resolution in the Middle East… it starts in a place like Canada."
Also Read | 'Appropriate for Israel to kill or incarcerate Hamas members, but...': Elon Musk's Gaza war solution (WATCH)
The shootings come after a synagogue in Montreal was set on fire earlier this week, and pro-Palestinian and pro-Israel student organisations clashed at Concordia University in the city. People who support different sides of the war in Israel and Gaza got into a violent confrontation at Concordia University on Wednesday, which culminated in injuries and an arrest. According to AFP, administrators stated that the institution has seen "a concerning rise in acts of intimidation and intolerant behaviour," which has caused students to feel afraid.
Also read: Israel-Hamas war: Did Benjamin Netanyahu reject 5-day ceasefire-for-hostages deal in Gaza?
Concordia said in a statement that in a different instance, swastikas were found in one of the school's buildings. Dozens of police officers patrolled downtown streets on Thursday in advance of multiple rallies scheduled near Montreal universities, as authorities promised increased security at schools and places of worship. 
Since the war between Israel and Hamas began on October 7, anti-Semitic incidents have returned to several nations across the world. Police in Montreal have recorded 73 hate crimes against the Jewish community in the last month, surpassing the total number of hate crimes committed against all groups in 2022.
Also read: Hamas' top 3 leaders are worth staggering $11 billion; raises questions over lavish lifestyle as Gaza suffers
Last Updated Nov 10, 2023, 9:11 AM IST