Ropes, feeding bottle & more: Israel finds 'signs' hostages were held by Hamas in Gaza hospital (WATCH)
Israeli military claims to have discovered a weapons cache in the basement of a pediatric hospital in Gaza, accusing Hamas of using civilian infrastructure for military purposes.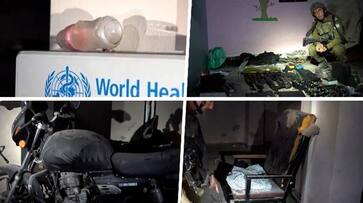 The Israeli military released video and photos on Monday, claiming that Hamas stored weapons in the basement of Rantissi Hospital, a pediatric facility in Gaza, where they allege hostages were held. Military spokesperson Rear Admiral Daniel Hagari reported that troops discovered a command center housing an arsenal of weapons, including grenades, suicide vests, and other explosives, allegedly stored by Hamas fighters in the basement of Rantissi Hospital. The hospital, specializing in pediatric care and cancer treatment, is implicated in the Israeli military's accusations of Hamas using civilian infrastructure for military purposes.
Also read: Viral Video: Egyptian football stadium erupts with chants of solidarity for Palestine amid Gaza war (WATCH)
"And we also found signs that indicate that Hamas held hostages here," he told a televised briefing. "This is currently under our investigation. But we also have intelligence that verifies it."
Hagari presented footage depicting basic living spaces, such as a small kitchen, along with a nearby tunnel shaft leading to the residence of a senior Hamas naval commander.
"Hamas took all this area under its control and conducted its war against Israelis from this hospital," he said.
In addition, troops discovered a motorcycle with gunshot marks, indicating its use in transporting hostages to Gaza after the surprise attack on October 7. The Israel Defense Forces (IDF) also discovered a chair, which had ropes tied to its legs, and a baby's feeding bottle among other signs that possibly indicate hostages were held in the hospital basement.
During the October 7 attacks, Hamas gunmen infiltrated southern Israel, resulting in the reported death of around 1,400 people and the capture of approximately 240 hostages, according to Israeli authorities. In response, Israel initiated a forceful bombardment of the Gaza Strip, followed by a ground operation that led troops to advance deeply into the enclave. Palestinian health officials report that more than 11,000 people have been killed in Gaza as a result of these actions.
Also read: Why did India vote against Israel at UN?
On Monday, Israeli tanks positioned themselves outside the gates of Al Shifa hospital, the primary medical facility in Gaza, where hundreds of patients were still awaiting evacuation.
As the invasion progressed, Israel accused Hamas of utilizing hospitals and other civilian infrastructure to conceal command centers and weapons positions, alleging the use of civilians and hospital patients as human shields.
Hamas and hospital authorities in Gaza have refuted these claims, denying any use of health facilities in such a manner. Hamas has not provided an immediate response to the latest statements from Israel.
The United Nations has called for a cessation of attacks on healthcare facilities in Gaza, while Israel asserts that it is facilitating the evacuation of patients and civilians.
Last Updated Nov 14, 2023, 2:27 PM IST