Viral Video: Egyptian football stadium erupts with chants of solidarity for Palestine amid Gaza war (WATCH)
In a viral video on X, an Egyptian football stadium can be seen uniting in a powerful chant of solidarity for Palestine amid the Israel-Hamas conflict.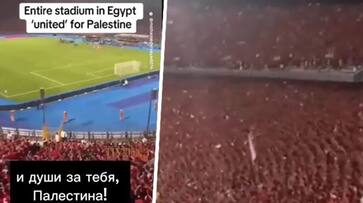 In a powerful display of solidarity, a viral video from Egypt has captured the moment when an entire football stadium united in support of the Palestinians during the ongoing Israel-Hamas conflict. The video, shared on X with the caption "We give our lives and souls for you, Palestine!" portrays a remarkable scene of unity and empathy transcending the boundaries of sport.
Also read: Why did India vote against Israel at UN?
In the face of adversity, football fans in Egypt are using their collective voice to amplify a message of support for the people of Palestine. The stadium, typically a place of competition and rivalry, transforms into a symbol of unity and compassion. The shared sentiment among the fans is palpable, emphasizing the significance of football not only as a sport but also as a platform for social and political expression.
Earlier this weekend, an Egyptian official expressed concerns that the establishment of "safe zones" or "humanitarian corridors" by Israel, with US approval, in northern Gaza may pave the way for the displacement of thousands of Palestinians from their lands.
Under the condition of anonymity, the official told Al-Araby Al-Jadeed that Egypt vehemently opposes the notion of relocating Palestinians from Gaza to any other location, whether within or outside the strip. Egypt views any such displacement as equivalent to undermining the essence of the Palestinian cause.
Israel, following discussions with the Biden administration, agreed on Thursday to establish "safe corridors" in Gaza, a move endorsed by the National Security Council spokesperson, John Kirby. According to Kirby, these corridors aim to enable Palestinians in northern Gaza to travel safely to the south and facilitate the smoother flow of humanitarian aid.
Also read: Designate Israel Army as 'terrorist organisation': Iran to Muslim nations
However, Egypt holds reservations about the humanitarian justifications provided by the US and Israel for the safe corridors, deeming them "deceitful." The Egyptian perspective asserts that these corridors are being exploited to displace the population, directing them toward the Egyptian border. The official, speaking on behalf of Egypt, confirmed that the government has communicated its dissenting stance on this matter to the United States.
The skepticism regarding the "safe corridors" was apparent in the address delivered by the Egyptian Foreign Minister, Sameh Shoukry, during the Paris Conference on Thursday. Shoukry cautioned against the implementation of "safe corridors," asserting that offering secure passage to the south is not a constructive step but rather a perpetuation of Israel's displacement policy, which runs counter to international humanitarian law.
Last Updated Nov 13, 2023, 1:33 PM IST