Why did India vote against Israel at UN?
India's surprise UN vote favored a resolution condemning Israeli settlements in Palestinian territories, drawing attention for its shift in stance. The resolution condemned land encroachment and disruptions in Palestinian territories, differing from India's recent abstention in a vote concerning the Israel-Hamas conflict.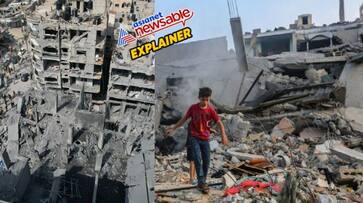 India's recent vote in the United Nations in support of a resolution denouncing Israeli settlements in Palestinian territories has raised eyebrows in diplomatic circles in the global world of politics.
A UN resolution, condemning the establishment of Israeli settlements in occupied Palestinian territories, including East Jerusalem and the Syrian Golan Heights, was presented. 145 countries, including India, supported the resolution. Seven nations, such as the United States, Canada, and Israel, voted against it, while 18 countries remained neutral, leading to the resolution's passage.

Crew member of popular Israeli series 'Fauda' killed in booby-trapped tunnel
India's unexpected vote in favour of the resolution has drawn attention, especially from Israel. The resolution focused on condemning Israel's settlement activities in Palestinian and Syrian territories. The majority of nations voted in support, while 18 countries maintained a neutral stance, and seven, including the US and Israel, opposed it.
The resolution specifically condemned land encroachment, disruption of the livelihoods of protected individuals, forced displacement of civilians, and encroachment in Palestinian territories.

1 child dies every 10 minutes in Gaza; Nowhere and no one is safe: WHO Chief pleads for ceasefire (WATCH)
This vote follows a recent presentation of a resolution at the UN, urging an immediate, long-term, and sustainable humanitarian ceasefire in the Gaza Strip. India had abstained from that vote, which aimed at halting the conflict. However, its support for this resolution against Israeli settlements in Palestinian territories marks a shift in stance.
The resolution underscored the condemnation of encroachments on land and the disruption of the lives of protected populations within Palestinian territories. This vote comes amid the backdrop of the Israel-Hamas conflict and ongoing international efforts to address the situation.
Last Updated Nov 13, 2023, 12:59 PM IST