Not just India: 4 more Asian countries reject China's new maps
China's release of official maps has sparked outrage among several countries, including India, the Philippines, Malaysia, Taiwan, and Vietnam, who claim that these maps infringe upon their territorial borders.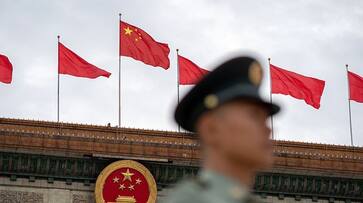 Aside from India, at least four other countries -- the Philippines, Malaysia, Taiwan, and Vietnam -- have expressed strong objections to China's release of maps that they argue infringe upon their territorial boundaries. India had raised concerns about a portion of the map that places sections of Arunachal Pradesh under Chinese control. Vietnam, too, has strongly criticized China's official map, asserting that it infringes upon Vietnam's sovereignty regarding the Spratly and Paracel Islands as well as its jurisdiction over its waters.
India enjoys favourable reputation worldwide, says Pew survey ahead of G20 Summit 
Vietnam's government news website carried a statement contending that China's claims, based on the nine-dotted line on the map, are "invalid." The statement, quoting Pham Thu Hang, spokesperson for Vietnam's foreign affairs ministry, emphasized Vietnam's resolute opposition to all of China's South China Sea claims associated with the dotted line.
The Philippines expressed its non-recognition of China's expansive claims in the South China Sea, while both Malaysia and Taiwan issued strongly worded statements accusing Beijing of asserting territorial claims over their respective regions.
Chinese Foreign Ministry spokesman Wang Wenbin, when questioned about the map during a routine press briefing in Beijing, expressed hope that "relevant parties can maintain objectivity and composure and avoid overinterpretation." 
China released the map to provide an official reference for publishers, companies, and others, as issues have arisen in the past between foreign entities and the Chinese government regarding map usage, the spokespersons said.
China's territorial claims encompass over 80 per cent of the South China Sea, supported by a 1947 map depicting the nine-dash line that extends southward approximately 1,100 miles (1,800 kilometres) from Hainan Island. Vietnam, the Philippines, Brunei, Malaysia, and Taiwan assert rights to parts of the same maritime area, leading to disputes with China over boundary delineations.
Chinese President Xi Jinping likely to skip G20 Summit in India: Report
Last Updated Sep 1, 2023, 8:59 AM IST