Explained: Why UK PM Rishi Sunak sacked India-origin Interior Minister Suella Braverman
British Prime Minister Rishi Sunak has reportedly sacked Interior Minister Suella Braverman following her comments made last week regarding the police's management of a pro-Palestinian march.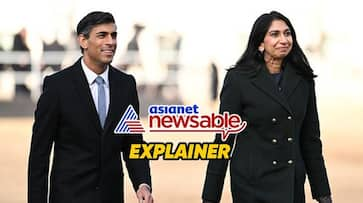 British Prime Minister Rishi Sunak has reportedly sacked Interior Minister Suella Braverman, one of his key ministers, according to a Reuters report quoting a government source, on Monday. The decision reportedly comes in the wake of comments made by Braverman last week criticizing the police's management of a pro-Palestinian march.
Facing criticism from opposition lawmakers and members within his own Conservative Party to remove Braverman, Sunak took action against his interior minister, requesting her to "leave government." Braverman accepted the decision, according to the Reuters report. 
Also read: UK PM Rishi Sunak, Akshata Murty celebrate diwali with family at 10 Downing Street (WATCH)
The political editor of The Sun tabloid reported that Foreign Secretary James Cleverly is likely to replace her. As per an article in the BBC, Braverman was offered a junior job in the government but is considered unlikely to accept.
Amid Sunak's ministerial reshuffle, former Prime Minister David Cameron was observed entering Downing Street, fueling speculation about a potential return to government. The UK PM is anticipated to implement a broader series of changes in his cabinet, introducing allies and dismissing certain ministers whom his Downing Street office claims have not met his expectations in their respective departments.
The controversy erupted after Braverman penned an opinion piece addressing "hate marches" during the ongoing Israeli attacks in Gaza. Published in the British daily The Times on Wednesday, the article accused Metropolitan officers of adopting a milder approach toward left-wing causes. Braverman went against Sunak's directives by writing the article that criticized the police for employing "double standards" in handling protests.
"I do not believe that these marches are merely a cry for help for Gaza," Braverman wrote, adding, "They are an assertion of primacy by certain groups — particularly Islamists — of the kind we are more used to seeing in Northern Ireland."
Initially, Sunak had opted to support her, and on Thursday, his No. 10 office released a statement stating that the Prime Minister had "full confidence in her," although he disapproved of her comments.
Also read: Viral Video: Egyptian football stadium erupts with chants of solidarity for Palestine amid Gaza war (WATCH)
The opposition Labour party argued that her stance escalated tensions during a pro-Palestinian demonstration on Saturday. Subsequently, over 140 individuals were apprehended as far-right counter-protesters clashed with the police, who sought to prevent them from approaching the 300,000 pro-Palestinian marchers.
Braverman's departure from the cabinet marks the second instance of her exiting a ministerial position prematurely. In 2022, during the Liz Truss government, she held the position of Home Secretary but left the role due to a violation of the ministerial code – sending an official document from her personal email. Approximately six weeks later, she was reinstated to the role after Rishi Sunak assumed office as the new Conservative Prime Minister.
Last Updated Nov 13, 2023, 2:58 PM IST