Buzz Aldrin gets married on 93rd birthday, check out his post; Twitterati can't keep calm
Aldrin also shared a wholesome photo of him and Faur in wedding attire. Wishes and congratulations poured in for the couple. The former astronaut also received many birthday wishes, along with a dash of 'over the moon' jokes.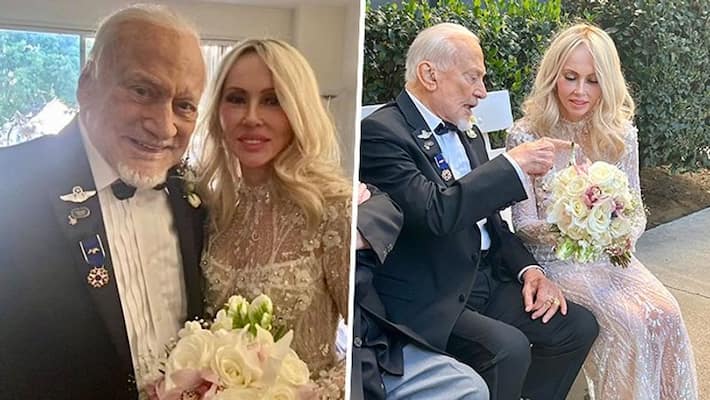 On his 93rd birthday, Buzz Aldrin, one of the three American astronauts who touched foot on the moon during the 1969 Apollo 11 mission, married his lifelong love. On Saturday, Aldrin posted images of himself and his wife, Dr. Anca Faur, on Twitter and said that they had been married in a low-key ceremony in Los Angeles, California.
Taking to social media, Aldrin wrote: "On my 93rd birthday & the day I will also be honored by Living Legends of Aviation I am pleased to announce that my longtime love Dr. Anca Faur & I have tied the knot. We were joined in holy matrimony in a small private ceremony in Los Angeles & are as excited as eloping teenagers."
Also Read | Chris Hipkins set to become next prime minister of New Zealand; Know all about him
Since being shared, Alrdrin's post has accumulated more than 22,000 likes and over 1.8 million views. In the comment section, several users congratulated the couple and jokingly wrote, "you must be over the moon!". 
Prior to this, Buzz Aldrin had three previous marriages and divorces. He is the sole survivor of the three-person crew of the Apollo 11 mission. Neil Armstrong was the first astronaut to set foot on the moon, but Buzz Aldrin followed him 19 minutes later.
After leaving NASA in 1971, the former astronaut established the ShareSpace Foundation in 1998 as a non-profit organisation to support the growth of crewed space exploration.
Also Read | India remains a bright spot amid global crises: WEF Executive Chairman Kluas Schwab
Last Updated Jan 21, 2023, 6:34 PM IST