Olivier Giroud sparks AC Milan's Champions League comeback with a win over PSG
Olivier Giroud's heroics led AC Milan to a thrilling 2-1 victory over Paris Saint-Germain, reigniting their Champions League campaign. In a high-stakes match at the iconic San Siro stadium, Giroud's trademark header and Milan's impressive performance turned the tables on their Group F rivals.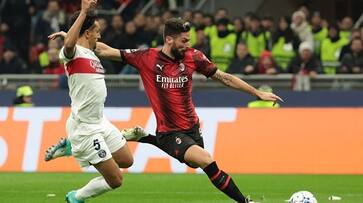 Olivier Giroud's decisive goal in Tuesday's 2-1 victory over Paris Saint-Germain has propelled AC Milan back into contention for the Champions League. The French striker, Giroud, scored a trademark header just four minutes into the second half at the electric San Siro stadium, reigniting Milan's hopes of progressing to the round of 16 and reversing a recent streak of poor form. Milan, led by Stefano Pioli, began the day at the bottom of Group F but now stands a competitive third with five points, just one point behind PSG, who hold the second qualification position.
This victory served as redemption for Milan, as they had suffered a 3-0 loss in Paris two weeks ago and also marked their first goals in this season's Champions League competition. The impressive Rafael Leao equalized for Milan in the 12th minute after PSG's early lead courtesy of former Inter Milan defender Milan Skriniar.
Giroud's winning goal was his seventh of the season across all competitions, and it carried a distinct French flair, with Theo Hernandez providing the precise cross that led to his fellow Les Bleus teammate finding the net.
After the match, an elated Leao expressed his pride in the team's hard work and the impressive display at home, stating, "We showed everyone what kind of team Milan are at home."
Milan's next challenge will be hosting Borussia Dortmund, who currently lead the group by a single point over PSG after their 2-0 victory over Newcastle United earlier on Tuesday. This upcoming match is likely to be pivotal for Milan's chances of advancing in the competition.
The atmosphere in the stadium was intense, with Milan fans showing their disapproval of Gianluigi Donnarumma, who left the club for PSG as a free agent two years ago. Fans displayed thousands of fake dollar bills featuring Donnarumma's face and the derogatory nickname "Dollarumma." Chants and insults were directed at the Italy goalkeeper throughout the match.
The game itself was action-packed, with both teams creating scoring opportunities. Skriniar put PSG ahead, but Leao's quick response with an acrobatic overhead kick brought Milan level. PSG continued to threaten, with Ousmane Dembele hitting the crossbar, and Giroud narrowly missing the target with a powerful shot.
Giroud ultimately secured the victory for Milan with a classic center-forward's header, although PSG believed there was a foul in the build-up to the goal. Donnarumma's exceptional save in the closing minutes prevented Milan from securing a more convincing win. Borussia Dortmund also made their mark in the group with a 2-0 win over Newcastle, rebounding from their recent 4-0 defeat to Bayern Munich in the Bundesliga.
Also Read: Recruitment to Injuries: Manchester United's roadblocks in their Champions League quest
Last Updated Nov 8, 2023, 2:18 PM IST