Jurgen Klopp: Mohamed Salah is still 'Biologically' a young player, despite growing experience
Jurgen Klopp lauds Liverpool's Mohamed Salah for maintaining the physical attributes of a young player while gaining valuable experience.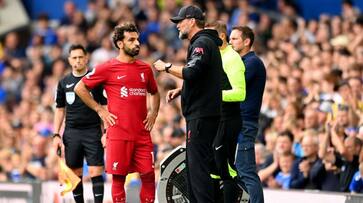 Jurgen Klopp is of the opinion that Mohamed Salah, despite gaining experience, still maintains the physical attributes of a young player. Salah's performance off the bench in Liverpool's recent Europa League victory over Toulouse impressed Klopp, with the Egyptian surpassing Thierry Henry's European goal tally for a single Premier League club.
In the previous weekend's win over Everton, Salah scored both goals, extending his run of scoring or assisting in 13 consecutive Premier League games at Anfield. Klopp is pleased to witness Salah's maturation on and off the pitch while still retaining his remarkable physical condition.
Klopp mentioned that Salah's understanding of the game has grown, and he continues to be a significant threat even when he doesn't score. He emphasized that Salah's biological age doesn't match other players in their 30s, indicating his remarkable fitness and football knowledge. Klopp also admitted that he was unaware of Salah's record-breaking achievement but praised his exceptional qualities and contributions to the team.
Liverpool is gearing up to face Nottingham Forest with Klopp expected to make several changes to the lineup, showcasing their ability to manage both Europa League and Premier League commitments.
Despite the challenging schedule of matches, Klopp believes Liverpool can handle the rhythm and adapt to it over the course of the season.
Also Read: Bukayo Saka nears equalling Arsenal's three-decade-old record of consecutive league games
Last Updated Oct 27, 2023, 7:20 PM IST