Bukayo Saka nears equalling Arsenal's three-decade-old record of consecutive league games
Bukayo Saka, Arsenal's standout player, is on the verge of matching a long-standing club record by potentially scoring or assisting in seven consecutive league games, a feat last achieved by an English player, Ian Wright, in 1994.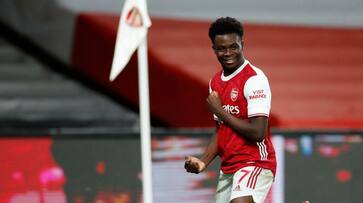 Bukayo Saka has earned a stellar reputation as Arsenal's standout player, and for good reason. His presence on the pitch consistently makes a significant impact, igniting enthusiasm among Arsenal fans, whether at home or away. Despite having his consecutive appearance streak for the club interrupted by an injury, Saka has continued to shine in the current season, building upon his impressive performances in previous campaigns.
In a remarkable run of form, Arsenal Media has unveiled that Saka has either scored or provided an assist in his last six league matches. Should he extend this streak to seven in the upcoming weekend, he will achieve an extraordinary feat. He would become the first Englishman to score or assist in seven consecutive league games for Arsenal since Ian Wright accomplished this in 1994.
Saka's consistent productivity makes it highly likely that he will match this record, as he proves to be a key asset in every game he participates in. While he may not have delivered standout performances in matches against Chelsea and Sevilla, he has made a notable impact. If he reaches top form against Sheffield United this weekend, he is poised to deliver even more remarkable returns, with strong support from his teammates anticipated.
Also Read: MS Dhoni reveals 'true' date of his retirement from international cricket; its not August 15
Last Updated Oct 27, 2023, 3:46 PM IST