Max Verstappen equals Alain Prost's record with thrilling victory at the Mexican Grand Prix
In a captivating race at the Mexican Grand Prix, Max Verstappen claimed a historic victory, drawing level with Formula One legend Alain Prost by securing his 51st win.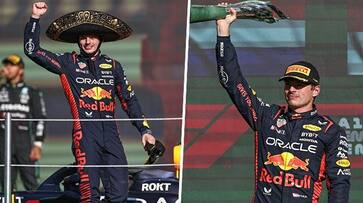 Max Verstappen clinched a historic victory, equaling Alain Prost's record of 51 Formula One wins, as he secured his 16th triumph of the season at the Mexican Grand Prix. Despite starting from the third position on the grid, Verstappen seized the lead at the beginning of the race and then went on to dominate. The race was marked by a lengthy red flag stoppage following a heavy crash involving Kevin Magnussen in his Haas.
The 26-year-old Dutch driver extended his lead, finishing 13.875 seconds ahead of a resurgent Lewis Hamilton, who had started in the sixth position. Charles Leclerc, who had claimed pole position, settled for third place, with his Ferrari teammate Carlos Sainz following closely.
Lando Norris delivered an outstanding performance for McLaren, finishing in fifth place after starting from the 17th grid position. George Russell in the second Mercedes secured the sixth position.
This victory marked Verstappen's fifth win in Mexico and his 18th podium finish of the year, equaling the record. In contrast, Leclerc's bad luck continued as he failed to convert his pole position into a win for the 11th consecutive time due to a collision with Sergio Perez at the first corner.
Despite a spin and a subsequent retirement, Perez's home crowd was left disappointed. Verstappen celebrated his remarkable victory, hinting at the possibility of more wins in the near future. Hamilton expressed satisfaction with the result, given his sixth-place start in what he referred to as a challenging few weeks.
Leclerc acknowledged the crowd's disappointment and explained his involvement in Perez's race-ending collision, emphasizing that it was unintentional.
Verstappen's impressive start to the race saw him overtaking the Ferraris by taking the inside line after a fast-paced 800-meter rush from Turn One. Perez attempted a bold move to go three-wide with Verstappen and Leclerc but ended up colliding with the Ferrari and ultimately retiring from the race.
Verstappen extended his lead to 4.6 seconds by lap 20 before making a pit stop for hard tires. He relinquished the lead to Leclerc, who soon found himself struggling with a damaged front wing. A safety car period was triggered when Kevin Magnussen crashed heavily at Turn Nine, leading to a flurry of pit stops.
The race resumed with a standing start after a 20-minute break to clear the debris. Verstappen, on hard tires, retained his lead, while Hamilton, on medium tires, worked his way into second place with a daring move on lap 40.
Exciting battles throughout the field, coupled with a remarkable drive by Norris, provided plenty of entertainment for the spectators.
Also Read: Premier League 2023-24: Debate surrounds Manchester City's penalty in the Manchester derby
Last Updated Oct 30, 2023, 12:24 PM IST