Asian Para Games 2023: Neeraj Yadav bags 27th gold for India with new record in Men's Javelin throw F55 event
Neeraj Yadav secured India's 27th gold at Asian Para Games 2023 with a Games record in Men's Javelin Throw F55, while Tek Chand achieved a personal best for a double podium finish.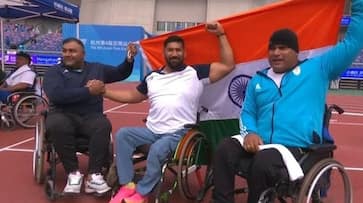 In a remarkable display of athletic prowess at the Asian Para Games 2023 in Hangzhou, China, Neeraj Yadav secured India's 27th gold medal by achieving a sensational feat in the Men's Javelin Throw F55 event on Saturday. Yadav clinched the gold medal with a stunning throw of 33.69 meters, setting a new Games record in this category.
Alongside Yadav's outstanding performance, Tek Chand added to India's success by claiming the bronze medal with a remarkable personal best throw of 30.36 meters. Their commendable achievements marked yet another double podium finish for India in the competition, highlighting the exceptional talent and dedication of the athletes at the Asian Para Games.
Earlier today, India reached the historic 100 medal haul milestone with para-athlete Dilip Mahadu Gavit claiming gold in the Men's 400m T47 event with time of 49.48 secs. 
"100 MEDALS at the Asian Para Games! A moment of unparalleled joy. This success is a result of the sheer talent, hard work, and determination of our athletes. This remarkable milestone fills our hearts with immense pride. I extend my deepest appreciation and gratitude to our incredible athletes, coaches and the entire support system working with them. These triumphs inspire us all. They serve as a reminder that nothing is impossible for our youth," wrote PM Narendra Modi after the historic feat.
On Thursday, Indian para-athletes achieved a historic milestone by surpassing their previous record at the Asian Para Games. This remarkable feat exceeded the nation's 2018 medal tally of 72, underscoring India's strong performance in the prestigious event held in Hangzhou, China.
Last Updated Oct 28, 2023, 9:20 AM IST