Skin friendly fruits: 5 astonishing advantages of Sweet Lime that increases softness
Well, Sweet lime is one such succulent fruit that has been one of the top favourites for most of us since childhood. Sanctified with an impressive profile of nutrients like potassium, iron, calcium, vitamins A, C, B1 and antioxidants, this rich greenish-yellow juicy fruit has numerous benefits towards the skin.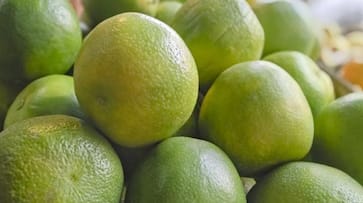 Prized for its delicious sweet and sour taste and nutrient-dense nature, Sweet lime, also known as Mosambi, is a versatile fruit. Right from protecting the skin from solar damage, reversing early signs of ageing, wrinkles, blemishes, and pimples, promoting cellular regeneration, cleansing skin pores and brightening up the complexion, sweet lime is truly blessed with the ability to treat and manage a lot of skin woes. Be it used on the face as a whole or as a face pack. It is a budget-friendly way to treat skin problems and gives you a spotless, crystal-clear complexion. Sweet lime, also known as mosambi, offers several advantages for your skin due to its rich nutrient content.
ALSO READ: Healthy Life: 5 dangers of over consuming Ginger daily
Here are five advantages of sweet lime for your skin:
1. Vitamin C Boost:
Sweet lime is packed with vitamin C, which is essential for collagen production. Collagen helps maintain skin's elasticity, keeping it firm and youthful. Regular consumption of sweet lime can contribute to smoother and healthier skin.
2. Hydration:
Sweet lime is primarily composed of water, making it an excellent hydrating fruit. Proper hydration is crucial for maintaining skin's moisture levels and preventing dryness, flakiness, and dullness.
3. Natural Exfoliation:
The natural acids in sweet lime, such as citric acid, can act as mild exfoliants. Applying sweet lime juice on your skin can help remove dead skin cells, leaving your skin looking brighter and more radiant.
4. Skin Brightening:
The vitamin C and antioxidants in sweet lime can help reduce the appearance of dark spots and blemishes, promoting a more even skin tone. It can also enhance your skin's natural radiance.
5. Anti-Ageing Properties:
Sweet lime contains antioxidants that combat free radicals, which can cause premature ageing. Regular consumption of sweet lime may help reduce the signs of ageing, such as fine lines and wrinkles.
ALSO READ: Health: 5 disastrous side effects of E-Cigarettes
Last Updated Sep 12, 2023, 7:30 AM IST