Subrata Roy's demise brings undistributed funds of Rs 25,000 crore into spotlight
The article discusses the aftermath of Sahara Group chief Subrata Roy's death, focusing on the undistributed funds exceeding Rs 25,000 crore with SEBI, the legal battles, refund processes, and the government's initiatives for depositors.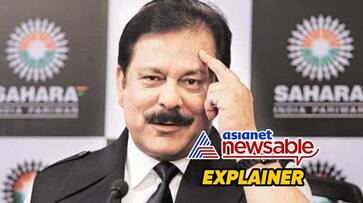 The demise of Sahara Group's chief, Subrata Roy, has once again brought attention to the undistributed funds exceeding Rs 25,000 crore residing in the account of the capital markets regulator, SEBI. The 75-year-old Roy passed away in Mumbai on Tuesday night, succumbing to a prolonged illness. His death has rekindled discussions surrounding the substantial funds associated with regulatory and legal issues faced by his group companies. Accusations of circumventing regulations through Ponzi schemes have been a longstanding challenge for his firms, contentions that the Sahara Group consistently refuted.
In 2011, the Securities and Exchange Board of India (SEBI) issued a directive to two companies within the Sahara Group – Sahara India Real Estate Corporation Ltd (SIREL) and Sahara Housing Investment Corporation Ltd (SHICL). The order mandated the refund of funds garnered from approximately 3 crore investors through a financial instrument known as Optionally Fully Convertible Bonds (OFCDs).
Also read: Subrata Roy passes away: Sahara founder's journey from Araria to being 'Sahasri'
SEBI's decision was grounded in its determination that the two firms had raised capital in contravention of established rules and regulations. Following a protracted legal process marked by appeals and cross-appeals, the Supreme Court on August 31, 2012, affirmed SEBI's directives, compelling the two entities to reimburse the funds collected from investors along with a 15 percent interest rate.
Subsequently, Sahara found itself mandated to deposit an approximate sum of Rs 24,000 crore with SEBI, earmarked for the subsequent reimbursement to investors. However, the conglomerate consistently asserted that it had already directly refunded over 95 percent of the investors.
In the most recent annual report from the capital markets regulator, SEBI disclosed that it disbursed Rs 138.07 crore in refunds to investors of two Sahara Group firms over an 11-year period. Simultaneously, the funds held in specially-designated bank accounts for the purpose of repayment have surpassed the Rs 25,000 crore mark.
With a lack of claims from a majority of the bondholders affiliated with the two Sahara companies, SEBI's total refunds saw a marginal increase of approximately Rs 7 lakh in the fiscal year 2022-23. Meanwhile, the balances in the SEBI-Sahara refund accounts experienced a significant rise of Rs 1,087 crore over the course of the year.
According to the annual report, as of March 31, 2023, Sebi recorded 19,650 applications encompassing 53,687 accounts. Among these, refunds were processed for 17,526 applications involving 48,326 accounts, totaling Rs 138.07 crore, inclusive of an interest amount of Rs 67.98 crore. The outstanding applications were closed as their records were untraceable in the data provided by two Sahara Group firms.
In its prior update, SEBI had reported the total refunded amount as of March 31, 2022, at Rs 138 crore, pertaining to 17,526 applications.
Additionally, SEBI has reported that, as of March 31, 2023, it has successfully recovered an aggregate amount of Rs 15,646.68 crore. This recovery stems from various orders issued by the Supreme Court and attachment orders mandated by the regulator. The amassed amount, along with the accrued interest post the appropriate refunds to eligible bondholders, has been deposited in nationalized banks. This action aligns with the Supreme Court's judgment dated August 31, 2012.
Also read: Subrata Roy Passes Away: Know his net worth, lifestyle, family, education and more
SEBI reported that as of March 31, 2023, the cumulative amount deposited in nationalized banks is approximately Rs 25,163 crore. In contrast, this figure was Rs 24,076 crore, Rs 23,191 crore, and Rs 21,770.70 crore as of March 31, 2022, March 31, 2021, and March 31, 2020, respectively.
In August, the government initiated the refund process for Rs 5,000 crore belonging to depositors trapped in four cooperative societies of the Sahara Group. Preceding this, Cooperation Minister Amit Shah introduced the 'CRCS-Sahara Refund Portal' in July, designed to streamline the reimbursement to investors. Approximately 18 lakh depositors have enrolled on the portal. In March, the government declared its commitment to returning the funds to 10 crore investors of the four cooperative societies within a span of 9 months.
Subsequent to a Supreme Court directive, the announcement was made to transfer Rs 5,000 crore from the Sahara-SEBI refund account to the Central Registrar of Cooperative Societies (CRCS).
Last Updated Nov 15, 2023, 11:45 AM IST