ISRO Chairman EXCLUSIVE: 'ISRO envisions a working space station; an Indian will land on Moon in a few years'
In an exclusive interview, ISRO Chairman S Somanath outlined a visionary path for the space agency, emphasizing the need for more frequent scientific missions and higher goals beyond the lunar landing. He discusses the potential to merge Chandrayaan and Gaganyaan programs, aiming for human spaceflight to the Moon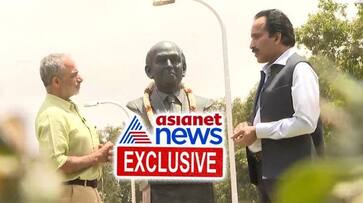 With the capability that ISRO has and the kind of capability that the Indian space agency is likely to develop in the next few years from now, we envision that we should be sending a space station soon to orbit, and even perhaps be able to make an Indian land on the Moon, ISRO Chairman S Somanath has said in an exclusive conversation with Asianet News Network Executive Chairman Rajesh Kalra.
During the interview, in which Asianet News Network was given exclusive access inside ISRO's U R Rao Satellite Centre, Somanath said: "If you really look at the activities of ISRO, we have been focusing more on operational systems like launching communication satellites, remote sensing satellites to meet the national demands and some science missions. Earlier, we used to have to have one mission in two to three years. But this (Chandrayaan-3) has given us great confidence."
"We must now continue our explorations and scientific missions much more frequently, and also set higher goals rather than limit ourselves to landing on the Moon. See we the Chandrayaan track (Chadrayaan-1, Chadrayaan-2 and Chadrayaan-3). We also did Mangalyaan. We also did Astrosat, and are going to do Exposat. There is yet another track called the human spaceflight track where we are going to send human beings to space. We are also looking at reusability. So can we fuse all of these ideas into one unique idea in which humans will one day go to the moon? Why not think about it?"
Elaborating further on the higher goals that ISRO was setting for itself, the space agency chairman said: "How do we put a space station in orbit? Why can't we dock in space and imagine stronger ideas? We are enthused to imagine these things. And with the capability we have today and the capability we are likely to develop in the next few years from now, we envision that we should be able to send a space station to orbit, which will not be for display, but rather carry out experiments."
"Gaganyaan will happen for sure. But what beyond that? Will it be continued as a sustained human spaceflight programme? And how to sustain and why to sustain? These are the questions we are asking. If you are to merge this Chandrayaan programme with the Gaganyaan programme and convert it into a human spaceflight to the Moon and land, maybe in the Amrit Kaal 2047, then it is a great thing. But it requires a continued exploration of the Moon and generates more and more indigenous capability to go to the Moon and come back. The hope experiment we carried out recently is a precursor to that. We are working on how to do it in a very short time. Scale it up to a level where we can actually send a robot to the Moon, do some exploration and bring back some samples. Maybe, a few years from now, an Indian will definitely land on the Moon," Somanath said.
Watch The Full Interview Below

ISRO Chairman EXCLUSIVE: 'Are we getting the best talent in India? The answer is NO'
EXCLUSIVE! When NASA wanted to keep an equipment designed and developed by ISRO
ISRO Chairman EXCLUSIVE: 'It will be HISTORIC if Vikram and Pragyan wake up on September 22'
Last Updated Sep 21, 2023, 8:56 PM IST