Tiger 3: Salman Khan kisses Emran Hashmi in public, leaving Katrina Kaif laughing; check this video
Tiger 3's cast recently celebrated the film's success with the press. During the memorable event, Salman, Katrina, and Emraan Hashmi spoke about the film and entertained the audience. Everyone was shocked when Salman Khan kissed Emran Hashmi on stage.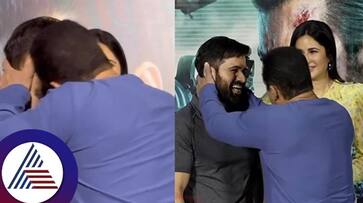 Tiger 3, starring Salman Khan, Emraan Hashmi, and Katrina Kaif, now creates theatre waves. In just six days, the film has earned more than Rs 200 crore at the domestic box office, with profits set to rise further this weekend. The actors of Tiger 3 recently toasted the success of the film with the press.
Salman, Katrina, and Imran spoke about the film and thrilled the crowd during the special occasion. What surprised everyone was Salman Khan kissing Emran Hashmi on stage. The video has already become popular on social media, and netizens love the togetherness.
Also Read: Katrina Kaif's exclusive insights: Zoya's strength in potential showdown with Rubai
It all started when Salman mentioned that romance is unavoidable if Katrina is in the film. For the uninitiated, Katrina reprises her role as Zoya in Tiger 3, while Salman Khan plays his intelligence agent. During the event, Salman stated.
"Increase the amount of action you can do, increase the amount of romance you can do, so that the family can go and see it. Now that Katrina is in this picture, there is definitely some romance with Zoya.' 
Salman also joked that there would have been a kissing moment for Imran's character 'Aatish' if he hadn't been a villain.
Then, suddenly, Salman Khan grabbed Emraan Hashmi's hand and kissed him. Salman's quip made everyone laugh, and the photos are now going viral on social media. Katrina, who was standing behind the actor, couldn't stop giggling. Salman and Katrina lit up the stage with their dance to 'Leke Prabhu Ka Naam' at the occasion.
Also Read: Tiger 3 Box Office Day 5: Salman Khan's film crosses Rs 200 Cr mark; read details
View the video here:
It is worth noting that Tiger 3 is the third edition in the famous action spy franchise directed by Manish Sharma. It is grossing a record-breaking amount at the box office. At the global box office, the film has lately reached the Rs 200 crore club.
Last Updated Nov 18, 2023, 4:19 PM IST