Katrina Kaif's exclusive insights: Zoya's strength in potential showdown with Rubai
Katrina Kaif, discussing a hypothetical face-off between her Zoya and Deepika Padukone's Rubai in the YRF Spy Universe, hints at Zoya's experience as a decisive factor. She praises the Spy Universe's well-written characters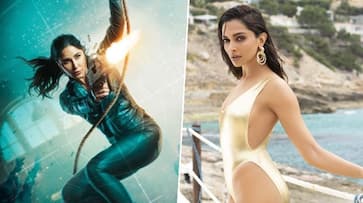 Katrina Kaif delved into the hypothetical face-off between her character Zoya from the Tiger franchise and Deepika Padukone's character Rubai from the YRF Spy Universe film Pathaan.
Kaif, who has garnered acclaim for her impressive action sequences as Zoya, weighed in on the potential showdown, stating, "See, let's put it this way. I don't know all the backstories, but Zoya to me seems the most experienced agent. So with experience comes more fighting experience. I leave it to you to decide."
The discussion further explored Katrina Kaif's preferences within the Spy Universe, particularly when choosing a potential sidekick between Shah Rukh Khan's titular character in Pathaan and Hrithik Roshan's role as Kabir in the movie War. The Phone Bhoot actress expressed her enthusiasm for the Spy Universe's well-written characters, highlighting their strong individual identities. She commented, "The wonderful thing about the Spy Universe is that all the characters are so well-written and have a strong identity of their own that you kind of can put any piece anywhere. Every piece fits beautifully. That's in the strength of the characters."
Shifting focus to their respective film projects, Katrina Kaif recently starred in Tiger 3 alongside Salman Khan and Emraan Hashmi, reprising her role as Zoya Humaimi, a former ISI agent. Her upcoming film, Sriram Raghavan's Merry Christmas, is now slated for a January 2024 release. Additionally, Kaif was initially part of Farhan Akhtar's road movie Jee Le Zaraa with Priyanka Chopra and Alia Bhatt; however, due to logistical challenges and production issues, the project is currently on hold.
ALSO READ: The Crown season 6 Part 1: Elizabeth Debicki as Princess Diana takes away cake from the Late Queen Elizabeth
On the other hand, Deepika Padukone enjoyed remarkable success in 2023 with blockbuster hits Pathaan and Jawan. In 2024, she is set to kick off the year with Siddharth Anand's Fighter, co-starring with Hrithik Roshan. Following this, Deepika will be seen in Nag Ashwin's sci-fi thriller, Kalki 2898 AD, alongside Amitabh Bachchan, Kamal Haasan, Prabhas, and Disha Patani. Additionally, she is a part of Rohit Shetty's Singham Again, scheduled for release in cinemas during the Independence Day weekend.
ALSO READ:David Beckham thanks Shah Rukh Khan and Sonam Kapoor for their hospitality; here's what he said
Last Updated Nov 18, 2023, 11:23 AM IST