Ranveer Singh's heartfelt reunion with MS Dhoni creates social media buzz
Ranveer Singh's heartwarming reunion with cricket legend MS Dhoni in Mumbai takes social media by storm. The actor's affectionate Instagram post and their genuine friendship capture hearts.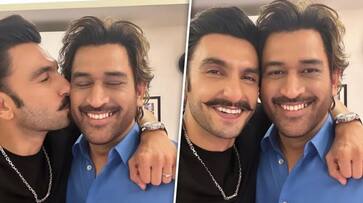 Ranveer Singh's recent reunion with Mahendra Singh Dhoni in Mumbai set social media abuzz. The actor delighted fans by sharing heartwarming photos on his Instagram, capturing moments of him kissing and hugging the legend cricketer. This joyful encounter occurred shortly after the former Indian cricket captain made headlines with his striking long hairstyle, reminiscent of his early days in the international cricket scene back in 2004.
Expressing his deep admiration and affection for Dhoni, Ranveer referred to him as the "GOAT" (Greatest of All Time) in his heartfelt caption, writing, "Mera Mahi @mahi7781 #hero #icon #legend #goat #bigbrother." Fans couldn't contain their excitement and flooded the post with love and praise, recognizing the special bond between Ranveer and Dhoni. One fan commented, "Best people with best vibes," while another exclaimed, "The crossover we didn't know we needed." A third admirer chimed in, "Baba and Mahi! 2 Gems."
The camaraderie between Ranveer Singh and Mahendra Singh Dhoni extends far beyond social media posts. The two share a close and friendly bond, often seen enjoying each other's company. Their friendship goes beyond the digital realm, as evidenced by their shared activities. In a previous instance, they were spotted playing football together, and Ranveer affectionately referred to Dhoni as his 'big brother' while affectionately calling him 'My jaan.' 
This post serves as a testament to the genuine friendship and mutual respect shared between the Bollywood actor and the cricket legend, solidifying their status as not just colleagues but as true friends.
ALSO READ: Salman Khan praises Aamir Khan's daughter Ira Khan, says 'Bache Bade Strong Ho Gaye Hai'
Last Updated Oct 5, 2023, 5:22 PM IST