Nick Jonas applauds wife Priyanka Chopra for expertly managing his Type-1 Diabetes; Read more
Nick Jonas praises wife Priyanka Chopra's vital role in managing his Type 1 Diabetes. She monitors his blood sugar through an app, receives alerts, and is well-educated on emergency procedures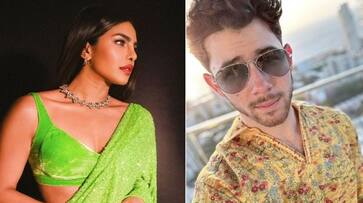 In a recent interview, Nick Jonas candidly shared insights into how his wife, Priyanka Chopra Jonas, plays a crucial role in helping him manage his Type 1 Diabetes, a condition he was diagnosed with 18 years ago. Nick emphasized that Priyanka is not only an incredible partner but is also fully educated on handling any emergency related to his health.
During the interview with Prevention, Nick disclosed that Priyanka has access to his blood sugar numbers through a dedicated app. Even when Nick is away on trips, he ensures that the data is shared with one of his brothers as an additional precaution. According to Nick, this practice is a precautionary measure, stating, "You never know, it's just better to be safe." He commended Priyanka for her proactive approach, highlighting how she is well-versed in managing his condition.
ALSO READ: Courteney Cox pens heartfelt note for her 'Chandler Bing' aka Matthew Perry two weeks after his demise; Read
Nick also mentioned that Priyanka, being fully aware of his health condition, receives alerts from him just as he used to alert his brothers when his blood sugar levels were high. This open communication, Nick believes, helps in avoiding unnecessary challenges in managing his diabetes.
Discussing Priyanka's role as a parent, Nick expressed gratitude for her support not only in dealing with his health but also as a parent to their daughter, Malti Marie Chopra Jonas. Nick acknowledged that since becoming a father, his focus on health management has intensified. He shared the challenges of experiencing a low blood sugar level precisely when his attention is needed by Malti, terming it a new and unexpected aspect of fatherhood.
Reflecting on the future, Nick mentioned the importance of explaining his health condition to Malti as she grows older. He acknowledged that this is a consideration he hadn't contemplated before becoming a parent.
Nick Jonas and Priyanka Chopra Jonas tied the knot in December 2018 at the Umaid Bhawan Palace in Jodhpur. The couple welcomed their first child, Malti Marie Chopra Jonas, in January 2022, opting for surrogacy as their chosen path to parenthood.
Last Updated Nov 15, 2023, 12:08 PM IST