Courteney Cox pens heartfelt note for her 'Chandler Bing' aka Matthew Perry two weeks after his demise; Read
Courteney Cox fondly remembers Matthew Perry, and pens a long heartfelt note for him two weeks after his death. Their on-screen chemistry as Chandler and Monica will continue to live on despite Matthew's un timely demise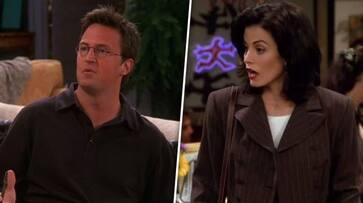 Courteney Cox, renowned for her portrayal of Monica Geller in the legendary sitcom Friends, recently paid a heartfelt tribute to her late co-star and friend, Matthew Perry, who passed away unexpectedly two weeks ago. The poignant Instagram post expressed Cox's grief and gratitude for the cherished moments she shared with Perry.
In the Instagram tribute, Cox shared a clip from the Season 4 finale of Friends, capturing the undeniable chemistry between Monica and Chandler. She disclosed that the on-screen couple's love story had an unexpected beginning, originating from the audience's reaction during a one-night fling in London. Cox underscored Perry's humor and kindness, reminiscing about how he would often inject funny lines before scenes, making the filming experience more enjoyable. In her post, she wrote, "I am so grateful for every moment I had with you Matty, and I miss you every day."
ALSO READ: 'Had a slip of tongue': Abdul Razzak apologises for derogatory comments on Aishwarya Rai (WATCH)
The shared clip showcased a behind-the-scenes moment where Perry whispered a humorous line to Cox before filming, a gesture that exemplified his playful and collaborative spirit on set. Cox acknowledged Perry's tendency to add these spontaneous touches, emphasizing his comedic talent and genuine kindness.
Also read: Shoaib Akhtar slams Abdul Razzaq's 'Aishwarya Rai' remark and former Pakistan stars for applause
Matthew Perry's untimely death on October 28, at the age of 54, shocked fans and colleagues alike. The cause was reported as an apparent drowning at his home. Cox's tribute not only celebrated their on-screen chemistry but also highlighted the deep bond formed during their years working together on Friends from 1994 to 2004.
Perry's struggles with addiction, as detailed in his 2022 memoir, added a layer of complexity to his life, revealing the challenges he faced even during the pinnacle of his career on the iconic show. The tribute by Courteney Cox sheds light on the multifaceted nature of their friendship, transcending the boundaries of the screen.
Courteney Cox's emotional homage contributes to the collective grief experienced by the Friends cast and fans worldwide. The enduring impact of Monica and Chandler's love story, both on and off-screen, is palpable as Cox fondly remembers Perry's humor, kindness, and the unforgettable moments they shared. The post serves as a touching tribute to a talented actor and a cherished friend, whose legacy will undoubtedly live on in the hearts of those who knew and loved him.
Last Updated Nov 15, 2023, 11:51 AM IST