Mission Raniganj: Akshay Kumar starrer to unveil epic true story of valour, courage
Akshay Kumar's "Mission Raniganj" teaser unveils a gripping true story of a heroic coal mine rescue mission, set to hit theaters on October 6, 2023, promising an exhilarating cinematic experience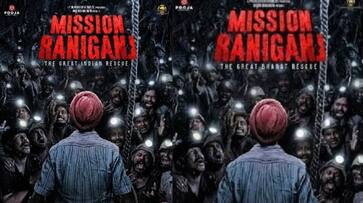 Following the release of an intriguing motion poster, Pooja Entertainment has now unveiled the impactful teaser for their highly anticipated movie, "Mission Raniganj: The Great Bharat Rescue." This teaser is a grand spectacle that has ignited excitement not only within the film industry but also among Akshay Kumar's devoted fan base.
Scheduled to grace the silver screen on October 6th, 2023, this film draws inspiration from a real-life incident at Raniganj Coalfield and the heroic deeds of Late Shri Jaswant Singh Gill, who spearheaded Bharat's coal mine rescue mission. The remarkable Jaswant Singh Gill, brilliantly portrayed by Akshay Kumar, played a pivotal role in saving the lives of miners trapped inside a flooded coal mine in Raniganj back in November 1989. This mission is renowned as the world's largest and most successful rescue operation against overwhelming odds.
"Mission Raniganj" epitomizes Akshay Kumar's signature style - narrating a compelling, untold true story of a mission deemed impossible. The teaser tantalizingly promises an exhilarating journey, laden with suspense, bravery, and an unwavering resolve to conquer seemingly insurmountable challenges. Akshay Kumar's films consistently remind us that reality can be more astonishing than fiction itself.
ALSO READ: Jawan: Is Shah Rukh Khan's movie copied from Sathyaraj's Tamil film? Read THIS
"Mission Raniganj" is shaping up to be incredibly promising, and the teaser has left us yearning for more. The superstar has returned to his element with this film, and the teaser's pulse-pounding impact leaves no room for doubt that it will be an unparalleled cinematic experience.
Presented by Vashsu Bhagnani and produced by Vashu Bhagnani, Jackky Bhagnani, Deepshikha Deshmukh, and Ajay Kapoor, "Mission Raniganj" is directed by Tinu Suresh Desai. This film brings to life the coal mine catastrophe that shook both the nation and the world, as well as the relentless efforts of the rescue team led by Jaswant Singh Gill. Audiences can mark their calendars for the theatrical release on October 6th, 2023.
ALSO READ: Kolkata Knight Riders' Rinku Singh's heartfelt tribute to Shah Rukh Khan and 'Jawan'
Last Updated Sep 8, 2023, 10:23 AM IST