Kolkata Knight Riders' Rinku Singh's heartfelt tribute to Shah Rukh Khan and 'Jawan'
Rinku Singh, the Kolkata Knight Riders' standout player, recently showcased his deep admiration for Bollywood icon Shah Rukh Khan by attending the first-day screening of SRK's latest blockbuster, "Jawan."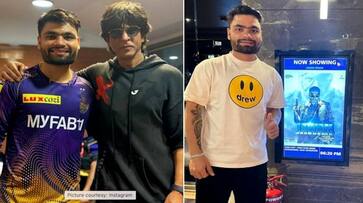 Kolkata Knight Riders player Rinku Singh, who shares a special connection with Shah Rukh Khan, expressed his admiration for the Bollywood star by catching the first-day screening of his favourite actor's latest movie, "Jawan." Shah Rukh Khan's much-anticipated film "Jawan," written and directed by Atlee, hit theaters on September 7. Even before its release and afterward, there was tremendous excitement among fans nationwide. The release of "Jawan" gripped the nation, with Shah Rukh Khan's devotees flocking to theaters to show their affection. Fans expressed their love and reverence for the 57-year-old actor by worshipping effigies of him, pouring milk over them, and dancing to his songs both inside and outside the theaters. Amidst the "Jawan" frenzy, another SRK enthusiast, Rinku Singh of the Kolkata Knight Riders, also made a trip to the local cinema to witness Shah Rukh Khan's action-packed film.
Rinku Singh, the star of the Kolkata Knight Riders who left a strong impression on Shah Rukh Khan during an electrifying IPL season, attended the first-day screening of SRK's highly anticipated film, "Jawan." Rinku took to his Instagram account to share snapshots of his cinematic experience. In one photo, he posed with the "Jawan" movie poster, and in the next, he was seen relishing a tub of popcorn while enjoying his favourite actor's performance on the big screen. Alongside the pictures, he expressed, "Do Not Disturb. Watching my favourite @iamsrk. Love you, sir," followed by a red heart emoji. 
Rinku Singh shares a special bond with Shah Rukh Khan, who co-owns the IPL team Kolkata Knight Riders that the cricketer is a part of. SRK was impressed when Rinku smashed five consecutive sixes, securing a thrilling victory for the Kolkata Knight Riders in an IPL 2023 match. Rinku also became the highest run-scorer in the same match. In a video circulating on Shah Rukh Khan's fan pages on social media, Rinku Singh mentioned receiving a call from SRK, who assured him that he would attend his wedding.
Also Read: India vs Pakistan: KL Rahul gears up for comeback as Virat Kohli and Rohit Sharma skip practice session
Last Updated Sep 8, 2023, 9:43 AM IST