Koffee With Karan Season 8 EP 2: Bobby Deol praises dad Dharmendra in 'Rocky Aur Rani'; says 'he was magical'
Koffee With Karan: Bobby Deol and Sunny Deol grace the 'Koffee' couch for the episode. Bobby praises dad Dharmendra's role in Karan Johar directorial 'Rocky Aur Rani Kii Prem Kahaani', says 'he was magical'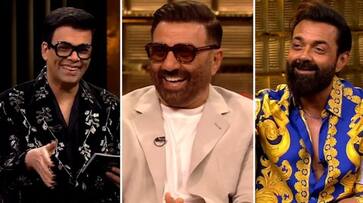 The much awaited season 8 of 'Koffee with Karan' started off last week with Deepika Padukone and Ranveer Singh gracing the 'Koffee' couch and opening the season. After the episode was aired, it created much controversy and furore among the online community and some people even took to trolling Deepika Padukone over her comments on being in an open-relationship with Ranveer Singh. The 'Koffee' couch is infamous for creating some one the nastiest trollings and at times, even backlash from people. However, we can safely vouchsafe that Bollywood lovers 'love' 'Koffee with Karan' for it's honest and candid conversations. Amidst this Karan Johar is back with his second episode of the season with Deol siblings Sunny Deol and Bobby Deol.
Bobby Deol on Rocky Aur Rani Ki Prem Kahaani and Alia Bhatt
Animal star Bobby Deol revealed that how much he loved the Karan Johar directorial. He went on to say that, ''Every one was so good. Ranveer Singh did an awesome job. He also revealed that he is a big fan of Alia's and that she is always amazing.
ALSO READ: Koffee With Karan 8: Karan Johar reacts to Deepika Padukone, Ranveer Singh getting trolled
Bobby Deol on Dharmendra's role in Rocky Aur Rani Kii Prem Kahaani
Bobby Deol while praising the Alia Bhatt, Ranveer Singh starrer romantic drama praised his father Dharmendra's character and the way he portrayed the role. He said, ''You chose Dad, and I am not saying because he is my father, but he was magical as a character.'' He went on to reveal that the Deol family had huge fun when they saw the on-screen kiss that Dharmendra had with Shahbana Azmi.
Sunny Deol on Dharmendra's 'Kissing' scene in RRKPK
On being asked what Sunny's reaction was to the much spoken about kiss, Sunny revealed that, ''My dad can do whatever he feels and he gets away with that, he can get away with that.
Dharmendra's Role in RRKPK
Veteran actor Dharmendra's character of Kanwal Lund has garnered huge praise from movie lovers. Dharmendra plays the role of Rocky's grandfather in the movie and the much-talked about kissing scene happens when he re-united with his long-lost soulmate Jamini Chatterjee who happens to be Rani's grandmother.
ALSO READ: Koffee with Karan 8: Deepika Padukone reveals love, tolerance, and changing 'hate' for Ranveer Singh
You can watch 'Rocky Aur Rani Kii Prem Kahaani' on Amazon Prime.
Last Updated Nov 2, 2023, 12:55 AM IST