Koffee With Karan 8: Karan Johar reacts to Deepika Padukone, Ranveer Singh getting trolled
Karan Johar responds to trolls criticizing Deepika and Ranveer's Koffee With Karan 8 episode, emphasizing the insignificance of trolling and promising changes based on constructive feedback. Episode 2 features celebrity siblings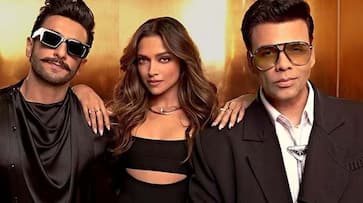 Karan Johar recently responded to the trolling that Deepika Padukone and Ranveer Singh faced following their appearance on the eighth season of "Koffee With Karan." As the host of the popular talk show, Karan took to Instagram for a live stream and engaged with fans, addressing the controversy surrounding the episode.
In his chat with fans, Karan Johar showed a sassy side and had a message for those who had been trolling the celebrity couple. He stated, "Do what you need to do because no one's looking," emphasizing that the negative comments were falling on deaf ears. Karan firmly asserted that trolls were making no progress with their actions and were essentially "landing nowhere."
The filmmaker acknowledged that he had heard constructive criticism from social media users and was committed to making necessary changes to the upcoming episodes. However, he made it clear that he was not paying any heed to the trolls.
For those not familiar with the episode in question, Deepika Padukone sparked headlines when she hinted at having an open relationship with Ranveer Singh before he proposed to her. She explained, "I wanted to be single for a while because I had come from difficult relationships. I was going through a phase where I said 'I just don't want to be attached, don't want to be committed.' And I had fun. And then he comes along, so I didn't 'commit commit,' until he proposed to me. There was no 'commitment as such. Even if we were technically allowed to see other people, we would just keep coming back to each other."
Ranveer Singh also became a point of discussion when some on social media noticed a change in his expression after Deepika revealed she didn't remember who she was seeing at the time when she was casually dating him. This led to various interpretations and discussions on social media.
ALSO READ: Varun Tej, Lavanya Tripathi to host wedding reception on THIS date, venue details here
In addition to addressing the trolling, Karan Johar also revealed that the second episode of "Koffee With Karan" Season 8 would feature siblings. Many speculations arose about the possibility of Sunny Deol and Bobby Deol making an appearance in this upcoming episode.
Last Updated Oct 30, 2023, 8:58 AM IST