Did Alia Bhatt's car gets mobbed by group of women?
An SUV that appears to belong to Alia Bhatt was surrounded by several women in a viral video that is going around social media.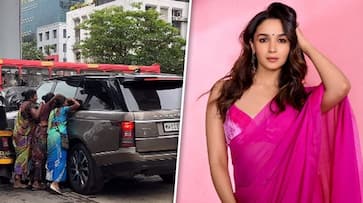 Alia Bhatt made the decision to take a well-deserved break following the enormous success of her most recent movie, Rocky Aur Rani Kii Prem Kahaani, and her Hollywood release, Heart of Stone. She left for a holiday in New York with her husband Ranbir Kapoor and their adorable baby Raha. Numerous images of the couple have surfaced on social media during the last few days. The actress frequently leaves her home now that she is back in the city. On the other hand, a video clip showing a group of ladies apparently mobbing her car circulated on social media on Sunday.
Also Read: Shilpa Shetty speaks up on being attacked by trolls for post-pregnancy weight
Sharing the trending video on their channel, a well-known paparazzi handle A group of women were seen curiously peering out of an SUV with a black tinted window, which Viral Bhayani said belonged to Alia Bhatt. Before the automobile started going, the video shows these women pressing their faces on it. News18.com is unable to confirm or refute whether the vehicle was Alia Bhatt's. Netizens were quick to react. One of them wrote, "Give them some personal space 🙏." Another one commented, "Ye celebs bilkul safe nhi h 😮😢." Someone else said, "They are saying aliaaa bhaatttt😂." An individual also stated, "Celebrities are not public property."
Meanwhile, Alia and Ranbir posed with photographers at the airport upon their arrival back in Mumbai. Alia accessorised her laid-back outfit with black trousers, a black pair of sunglasses and white trainers. She also wore an oversized white t-shirt. Ranbir, on the other hand, wore stylish sportswear, including a set of blue track pants and a sweater to match. Fans swarmed him and demanded selfies as they exited the airport. Before getting inside their car, they both took a photo with the throng of onlookers. The paparazzi also gave Alia their congratulations on winning a national honour. The actress replied "thank you" formally.
After earning a staggering Rs. 343.98 crores at the global box office, Alia Bhatt's most recent movie, Rocky Aur Rani Kii Prem Kahaani, is now accessible on the OTT service Amazon Prime Video. The movie can be rented right now for 30 days. On the platform, it will, however, soon be accessible without charge. Additionally, there are an additional 10 minutes in the OTT version of the movie that were omitted from the theatrical version due to time restrictions.
Also Read: Akshay Kumar's savage reply to a fan asking why he is 'awake' is unmissable
Last Updated Sep 18, 2023, 2:49 PM IST