Anupamaa update: Anuj surprises Anupama by bringing Ba and Babuji home; Read more
Anupamaa Update: Anuj surprises Anupama by bringing Baa and Babu ji home. Tapish helps at the academy. Kavya and Dimpy discuss societal expectations. An emotional family reunion takes place, while potential conflicts and challenges emerge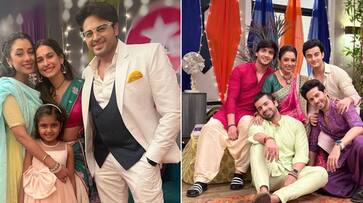 The scene unfolds in Anupama's home as various characters navigate through their interactions and emotions. Anuj, having arrived home, questions Anupama about her mood. Anupama, however, dismisses any concerns, assuring him that everything is fine. Meanwhile, Malti Devi observes Anupama hugging Anuj.
In another part of the story, Tapish visits Babu ji's home, addressing him as a senior citizen. Babu ji, initially resistant to being called old, is eventually won over as Tapish massages his feet, relieving his pain. Tapish is hired by Babu ji, receiving a symbolic payment of 1 Rs. Dimpy questions Tapish's presence, and he explains that he is there to collect the keys to the academy. Dimpy informs him that the academy will be temporarily closed due to Baa's health, and Tapish agrees to wait.
Anupama engages with Baa, encouraging her to take medicine and remember details. Anuj expresses his intention to meet Baa and Babu ji before heading to the office. Anupama advises him to give Baa a bag containing dry fruits powder for milk. Meanwhile, Barkha suspects Anupama of sending more than just dry fruits to the Shah house.
Kavya, concerned about the academy, urges Dimpy to rest and entrusts the keys to Tapish. Despite initial resistance, Dimpy hands over the keys to Tapish, who leaves after obtaining them.
ALSO READ: World Cup 2023: Anushka Sharma comforts husband Virat Kohli after India losses final match against Australia
Back at Anupama's house, Ankush and Anupama are busy with their chores. Barkha criticizes Anupama, implying that she is trying to control her husband's finances. Anuj arrives home, and Anupama asks about Baa and Babu ji. Anuj reveals that he has brought them home to alleviate Anupama's concerns. Baa and Babu ji enter the scene, and Anuj persuades them to stay, relieving Anupama of her worries. Babu ji agrees, appreciating Anuj's understanding. Romil arrives, and the family dynamics seem to be shifting positively.
ALSO READ: Tiger 3: Sunny Deol praised his 'Jeet' co-star Salman Khan post massive success; Here what he said
In another subplot, Kavya and Dimpy discuss the challenges of societal expectations and narrow thinking. Kavya suggests that Baa's disapproval is rooted in societal norms rather than personal opinions. The conversation shifts to Tapish, and Kavya questions Dimpy about her feelings for him.
The episode concludes with Dimpy facing harassment from some goons, highlighting the potential challenges and conflicts the characters may encounter in the unfolding storyline.
Last Updated Nov 21, 2023, 8:58 AM IST