World Vegan Day 2023: Is Virat Kohli a vegetarian or vegan? WATCH what Indian icon once said
On World Vegan Day 2023, we explore Virat Kohli's commitment to fitness and his decision to shift to a vegetarian lifestyle in 2018, emphasizing the impact of these choices on his career and overall influence on health and fitness practices.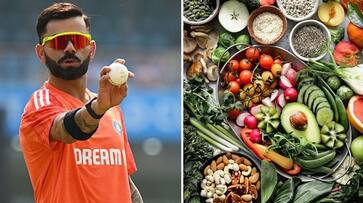 Indian batting icon Virat Kohli, who is on the verge of equalling the legendary Sachin Tendulkar's record of 49 ODI centuries in the ongoing ODI World Cup 2023, has not only left an indelible mark on the sport but has also become a paradigm of fitness and health in the cricketing world. Kohli's relentless commitment to his fitness regime is no secret, and his remarkable journey to become one of the fittest athletes in the world further highlights  his dedication to a healthy way of life.
Kohli's fitness journey has been nothing short of exemplary. His transformation from a young, aspiring cricketer to a powerhouse of athletic prowess stands as a testament to his unwavering dedication to physical fitness. The cricketer has often emphasized the pivotal role fitness plays in his performance on the field. His rigorous workout routines, combined with a disciplined diet, have been crucial components in his rise to becoming one of the most prominent figures in international cricket.
Also read: Didn't think I'd score so many hundreds and runs: Virat Kohli on verge of equalling Sachin Tendulkar's record
In 2018, Kohli made headlines by embracing a vegetarian diet and he has gone on record several times to clarify that he is NOT vegan. His decision to omit meat from his diet 5 years ago not only astonished his fans and the cricketing world but also challenged the conventional belief that a non-meat diet might compromise an athlete's strength and performance. Kohli's decision to turn vegetarian stemmed from health concerns, which included high acidity levels.
"I had a cervical spine issue which resulted in a tingling sensation in my little finger making it difficult for me to bat. It happened during the Centurion Test in South Africa in 2018. Moreover, my stomach became a bit acidic, my uric acid went high, and my stomach started pulling calcium from the bones which resulted in the spine issue. Hence, I had to cut down meat and now I feel better than ever," Kohli said in an old interview.
Meanwhile, in another interview, the former Indian skipper had stated, "I have turned vegetarian for almost two years now. Not completely vegan. 90 percent would be animal protein-free and dairy-free and everything. I was a heavy meat eater and to switch immediately meant I had to be very sure of the nutritional content and value of what I am eating. Superfood salad is probably the most balanced way to have a healthy and a light meal and at the same time it gives you the right nutrition."
Also read: Virat Kohli's birthday bash: 70,000 masks, special cake, fireworks and more in grand Eden Gardens celebration
The shift to a vegetarian diet didn't hinder Kohli's fitness or strength. Instead, it served as a testimony to the possibilities of achieving peak athleticism through plant-based nutrition. Kohli's energy levels remained high, and his performances on the pitch continued to impress, proving that a well-balanced vegetarian diet can be instrumental in maintaining optimum fitness levels.
Apart from his dietary choices, Kohli's passion for fitness has also inspired many. His regular fitness updates and workout routines on social media platforms have motivated his followers to adopt a healthier lifestyle. His fitness mantra emphasizes the balance between exercise, nutrition, and mental well-being, setting a benchmark for aspiring athletes and fitness enthusiasts alike.
Last Updated Nov 1, 2023, 6:09 PM IST