Didn't think I'd score so many hundreds and runs: Virat Kohli on verge of equalling Sachin Tendulkar's record
Virat Kohli reflects on his career journey, nearing Sachin Tendulkar's ODI century record, emphasizing unexpected achievements and personal growth in discipline and professionalism.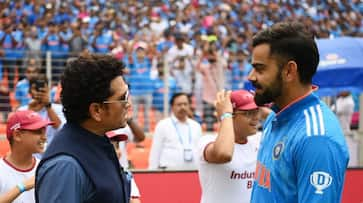 Iconic Indian batter Virat Kohli reflected on his cricket journey as he approaches equalling Sachin Tendulkar's record for the most ODI centuries. Kohli expressed that he never envisioned amassing such a significant number of runs and hundreds when he began his career. In the ongoing ODI World Cup 2023, Kohli has displayed remarkable form, securing one century and three half-centuries in six matches. Notably, he scored an unbeaten 103 against Bangladesh in Pune on October 19, marking his 48th ODI hundred, just one short of Tendulkar's world record. Additionally, he made 95 against New Zealand on October 22, falling just five runs short of matching Tendulkar's record of 49 centuries in ODI cricket.
Speaking to Star Sports, Kohli mentioned his aspirations and how his cricket journey has unfolded, expressing surprise at the exact path his career has taken. He emphasized the unpredictability of one's journey in the sport, acknowledging that no one can plan precisely how things will unfold.
Also read: 'Well paid Pakistan': Babar Azam's team trolled despite eliminating Bangladesh; meme fest erupts after WC win
"If we talk about cricket, I had never thought of achieving all, as in where my career is and how god has blessed me (with) such a career span and performances," Kohli said.
"I had always dreamt I'd do this, but I had never thought things would pan out this way exactly. Nobody can plan these things, the way your journey is going, and the way things unfold in front of you. I hadn't thought that I'd score so many hundreds and so many runs in these 12 years," the former Indian skipper added.
Reflecting on his achievements, Kohli acknowledged the changes he had to make in his discipline and lifestyle, realizing a lack of professionalism at a certain point in his career. His primary focus remained on performing well for the team and winning games from challenging situations, prompting several adjustments in his approach to discipline and lifestyle.
"My only focus was that I should perform well for the team and win games for the team from difficult situations. For that, I made quite a few changes along the way regarding discipline and lifestyle. I always had the drive in me, but I lacked the professionalism. Now, I have a single-minded focus on how I want to play the game, and after that, the results I've achieved are from playing that way itself," he added.
Also read: Jasprit Bumrah vs Shaheen Afridi - Pakistan legend Wasim Akram settles debate once and for all (WATCH)
Debuting for India in 2008, Kohli emphasized that a cricketer's effort is always acknowledged by the sport. "The game recognises effort. Honestly, that's what I have learnt from my career. I've played cricket by giving my hundred per cent on the field, and the blessings I have got from it have been given to me by God, and I had never thought things would have unfolded this way," he said.
Looking ahead, Kohli will have the opportunity to equal Tendulkar's feat in India's upcoming ODI World Cup 2023 match against Sri Lanka in Mumbai scheduled for Thursday.
Last Updated Oct 31, 2023, 10:28 PM IST