ODI World Cup 2023: India's semi-final qualification equations explained, Men in Blue could still not qualify
The Men in Blue are almost on the cusp of confirming their qualification for the semi-final stage due to the incredible form shown in the ODI World Cup 2023. They have 12 points from six games with a net run rate of +1.405.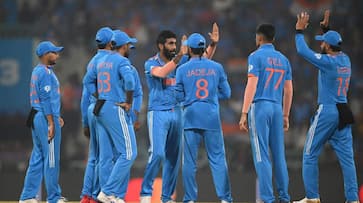 The Men in Blue have shown exemplary displays of positive results in the ODI World Cup 2023 so far. Their recent win against England made it six wins on the trot for the hosts. However, India still hasn't officially qualified for the semi-final spot as various equations are still alive for all possible scenarios.
The Rohit Sharma-led team is sitting on the top of the points table after gaining 12 points in six games so far. They are also the only team to remain unbeaten in the tournament until now. India's net run rate is also one of the healthiest among the teams with it being +1.405. Only South Africa has a better net run rate with +2.032.
Also Read: ODI World Cup 2023: New Zealand and South Africa to battle out to affirm their Top 4 spots
Despite a fantastic display from the Indian cricket team they still are ought to officially qualify for the semi-final stage. The men in blue are just one win away from achieving the official qualification. If India manages to win the match against Sri Lanka or even if the match is washed out and both teams share a point each, India will become the first team in this World Cup to reach the semi-finals stage.
There is also a possibility of India not making it into the semi-finals. For that, India will have to lose their remaining three games by huge margins. Moreover, New Zealand and Australia will have to win two of their remaining three matches losing only to the Afghanistan vs Sri Lanka winner, to reach 12 points.
In such a scenario, all the teams will be tied on the points and India could get knocked out with an inferior net run rate. But this looks like an almost impossible scenario as the men in blue are sharp enough to continue their fine form and maintain their net run rate.
Last Updated Oct 31, 2023, 9:23 PM IST