ODI World Cup 2023: Afghanistan still in race for semi-final spot, how can they ensure their qualification?
Afghanistan has one of the brightest chances to make it into the semi-final stages of the ODI World Cup 2023. However, a lot also depends on the other results mainly of New Zealand and Australia's matches.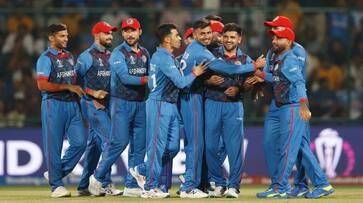 Afghanistan has done brilliantly in the past few matches in the ODI World Cup 2023 to stay in the mix for the semi-final spot. The South Asian team is sitting at the 5th position of the points table with 6 points in 6 games and a net run rate of -0.718.
The Hashmatullah Shahidi-led team put up a fine display to win against Pakistan and Sri Lanka. The previous two games have shown the upward trajectory of Afghanistan cricket. Moreover, both the games won by Afghanistan were in a dominating fashion with a thumping authority on them.
Also Read: ODI World Cup 2023: Shreyas Iyer sweats in the nets with aim of overcoming short ball failures
Afghanistan has remained in the mix for the semi-final qualification with the crucial performances. However, the road is not as simple as it seems to get into the top four spots in the points table. Currently, India, South Africa, New Zealand, and Australia are placed in the chronological order.
Afghanistan Qualification Scenario
The Afghanistan cricket team has three ODI World Cup 2023 matches to be played. They will face the Netherlands, Australia, and South Africa respectively in the upcoming days. Afghanistan will need to win all their next three games which will take them to 12 points.
If either New Zealand or Australia goes on to lose two of their remaining three games then Afghanistan will qualify for the semi-finals with 12 points. This is the most probable scenario for the Afghanistan cricket team's semi-final qualification dream. 
There is also another way for the Afghanistan team but that is more tricky. If Afghanistan manages to lose against South Africa and Australia and only manages to win against the Netherlands, it will finish at 8 points. In such a case, Afghanistan will need the following match results.
PAK vs BAN - BAN
NZ vs SA - SA
IND vs SL - IND
NED vs AFG - AFG
NZ vs PAK - PAK
ENG vs AUS - AUS
IND vs SA - IND/SA
BAN vs SL - BAN
AUS vs AFG - AUS
ENG vs NED - ENG
NZ vs SL - SL
SA vs AFG - SA
AUS vs BAN - AUS
ENG vs PAK - ENG
IND vs NED - IND
Last Updated Oct 31, 2023, 6:25 PM IST