Virat Kohli equals Sachin Tendulkar: Over 4.3 crore fans witness King's 49th ODI ton on 35th birthday (WATCH)
On his 35th birthday, Indian batting icon Virat Kohli equalled legendary cricketer Sachin Tendulkar's record of 49 ODI centuries during the ODI World Cup 2023 clash between the Men in Blue and South Africa in the iconic Eden Gardens, Kolkata, on Sunday.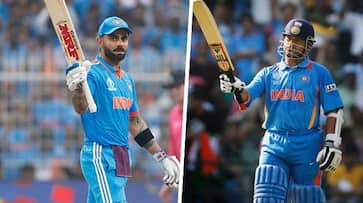 As a pivotal figure in the world of cricket, Indian batting icon Virat Kohli has yet again etched his name in the annals of the sport's history and this time on his 35th birthday. With his century in the ongoing ODI World Cup 2023 clash against South Africa in the iconic Eden Gardens, Kolkata, on Sunday, Kohli equaled the legendary Sachin Tendulkar's record of 49 ODI centuries, marking a significant milestone in his illustrious career. Kohli achieved his landmark 49th ODI ton off 119 balls, including 10 fours, and fired India to a total of 326 for the loss of 5 wickets in their 50 overs.
The cricketing world stood witness to this momentous achievement as Kohli notched up his 49th ODI century during a gripping match against the Proteas in front of a crowd that has witnessed the magic of the 'Master Blaster' for years. Throughout his career, Kohli has epitomized consistency, resilience, and an insatiable hunger for success, all attributes that have propelled him to this extraordinary feat.
Also read: Inked devotion! Ardent fan celebrates 'King' Virat Kohli's 35th birthday with 17th tattoo ( WATCH)
In his clash against Sri Lanka last week, Kohli went past another Tendulkar record of scoring 1000 or more runs in ODIs most times in a calendar year. The former Indian skipper breached the 1000-run mark this year after he reached 34 runs during his knock against Sri Lanka. Excluding this current year, Virat Kohli achieved the feat of scoring over 1000 runs in a calendar year in 2011, 2012, 2013, 2014, 2017, 2018, and 2019. Following a notable four-year hiatus, the former Indian captain has once again surpassed the 1000-run milestone in the 50-over format within a single year.
Comparisons between Kohli and Tendulkar have been inevitable, and as Kohli continues to match and break records set by the 'Master Blaster,' the cricketing fraternity finds itself in awe of his remarkable achievements. Tendulkar's legacy in cricket has long been an inspiration for many, and Kohli's ability to match his records signifies not only individual brilliance but also a torch-passing moment within Indian cricket.
Prior to reaching this historic milestone, Kohli had said, "If we talk about cricket, I had never thought of achieving all, as in where my career is and how god has blessed me (with) such a career span and performances. I had always dreamt I'd do this, but I had never thought things would pan out this way exactly. Nobody can plan these things, the way your journey is going, and the way things unfold in front of you. I hadn't thought that I'd score so many hundreds and so many runs in these 12 years."
"My only focus was that I should perform well for the team and win games for the team from difficult situations. For that, I made quite a few changes along the way regarding discipline and lifestyle. I always had the drive in me, but I lacked the professionalism. Now, I have a single-minded focus on how I want to play the game, and after that, the results I've achieved are from playing that way itself," he told Star Sports in an interview ahead of the Sri Lanka clash.
Kohli's journey to this milestone has been nothing short of a cricketing saga. His dedication to fitness, adaptability across all formats of the game, and a hunger for runs have consistently placed him among the elite in the cricketing world. His knack for pacing innings, expertly maneuvering the game, and rising to the occasion in high-pressure situations have been defining elements of his success.
Also read: Virat Kohli birthday: Tendulkar to Sehwag - wishes pour in from cricket fraternity as 'King' turns 35
As Kohli stands shoulder to shoulder with Tendulkar in the realm of ODI centuries, the cricketing world eagerly anticipates his quest to surpass this record. The pursuit of excellence and the hunger for more milestones undoubtedly lies ahead for the cricketing maestro.
The narrative of Kohli's career, laden with stellar performances and unwavering commitment, is a testament to his remarkable talent and unyielding spirit. As he continues to etch his name in the history books, cricket aficionados eagerly await the next chapter in the saga of Virat Kohli.
Last Updated Nov 5, 2023, 6:03 PM IST