ODI World Cup 2023: Rahul Dravid's perspective on why Indian batsmen haven't bowled much in recent years
Former cricketing maestro and current coach, Rahul Dravid, sheds light on the changing dynamics of batsmen donning the bowler's cap in the sport of cricket.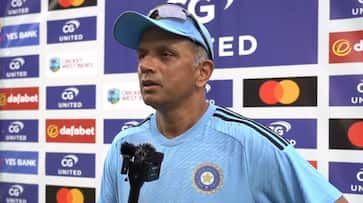 In recent years, the strategic thinking within the Indian cricket team's management has leaned heavily toward fielding more all-rounders, a decision influenced by the current crop of top-order batsmen refraining from offering their bowling skills on the field, in stark contrast to some legendary predecessors of yesteryears. The Indian team's insistence on deploying utility players such as Axar Patel or Washington Sundar can be attributed to two critical factors: the reduced involvement of batsmen in bowling duties and the lack of batting prowess displayed by tail-enders.
What catalyzed this transformation? Rahul Dravid, the former Indian cricketing legend and current coach, suggests that a fundamental change in the rules may be the culprit. With the sudden shift from having four fielders inside the ring to five during the limited-overs format, Dravid argues that this shift has significantly hindered the ability of part-time bowlers to effectively contribute during the middle phase of the game. This alteration has resulted in key Indian batsmen like Virat Kohli, Rohit Sharma, Shreyas Iyer, and Suryakumar Yadav refraining from bowling duties.
Suryakumar Yadav's case, in particular, is noteworthy, as he faced a suspension for his suspect bowling action during a Mumbai Indians match, subsequently never bowling again. Prior to Suryakumar, even Shikhar Dhawan would occasionally spin the ball, but concerns about his bowling action led to him completely abandoning this aspect of his game.
A retrospective examination of statistics provides further insights into this transformation. Legendary Indian batsmen like Sachin Tendulkar, Sourav Ganguly, Yuvraj Singh, Virender Sehwag, and Suresh Raina, all of whom primarily batted in the top five, managed to contribute significantly with the ball as well. For instance, Sachin Tendulkar claimed 154 ODI wickets with a diverse array of deliveries, while Sourav Ganguly's medium-paced offerings yielded 100 scalps. Yuvraj Singh's bowling prowess played a pivotal role in India's 2011 World Cup victory, as he retired with 111 wickets. Even Virender Sehwag and Suresh Raina chipped in with 96 and 36 wickets, respectively, under the captaincy of MS Dhoni.
Also Read: India vs Australia 1st ODI - Team news, pitch report and probable playing XIs
Notably, most of these players began their bowling journeys when only four fielders were allowed inside the ring. The shift to five fielders in the ring has not only affected the Indian team but has also led to a decline in part-time bowlers across various international teams.
The advent of two new balls being used from both ends in the limited-overs format, where each ball remains relatively new for 25 overs, has also contributed to the dwindling role of part-time bowlers.
Dravid also points to the defensive mindsets of captains and coaches, who are increasingly cautious about relying on part-timers due to rule changes and the need to include genuine bowlers in the playing XI.
The potential solution lies in cultivating more genuine all-rounders within the team, and the current management is actively working towards this goal. Dravid emphasizes their commitment to nurturing players who can both bat and bowl effectively. While the evolution of cricket rules has diminished the prevalence of part-time bowlers, the quest to find and develop true all-round talents continues to be a priority for Indian cricket.
Also Read: Anrich Nortje and Sisanda Magala's World Cup dreams shattered due to injuries
Last Updated Sep 22, 2023, 10:38 AM IST