Arabica coffee price drop sends shockwaves among Karnataka farmers
Arabica coffee growers in Sakaleshpur, Karnataka, face distress as stock dwindles and prices plummet due to oversupply from Brazil. Challenging to cultivate, Arabica's price decline contrasts with the stability of Robusta coffee. Concerns mount over rainfall impact and market difficulty, reflecting the intricate global-local market connection.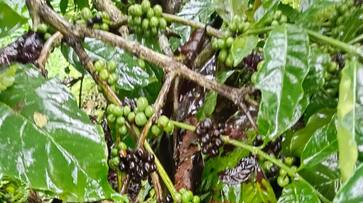 A sudden plunge in Arabica coffee stock during market opening has stirred frustration among growers in Sakaleshpur, Karnataka. As the Arabica coffee harvesting season commences in various parts of the taluk, the dwindling stock levels have left farmers deeply concerned.
Typically, Arabica coffee harvesting kicks off towards the end of August in the taluk, gaining momentum through October and flooding the market with produce during the initial weeks of November. However, this year, a significant decrease in Arabica coffee stock has unsettled growers, triggering worries about market fluctuations and prices.

Karnataka: Coffee businessman from Coorg succumbs to severe air pollution in Delhi
In contrast to the relatively stable prices witnessed earlier, the current market reflects a considerable decline in Arabica chari rates, plummeting by Rs. 150 to Rs. 200 per bag. Similarly, the price of Arabic parchment has seen a decline of Rs. 4500 to Rs. 5000 per thousand.
In comparison, the price of robust coffee has shown lesser fluctuation. While the price of robust parchment was Rs. 6500 during the coffee market's closing stage, the current rates have been fixed between Rs. 5800 to Rs. 6200. With robust coffee yet to enter the market for another two months, only older stock sporadically makes its way into the market, intensifying concerns primarily among Arabica coffee growers.
The decline in Arabica coffee prices is attributed to Brazil's excessive production of Arabica coffee, leading to surplus availability in the market. The oversupply from Brazil has caused a dip in Arabica coffee prices in the London market, which significantly influences global coffee pricing.

Espresso to endurance: Science behind coffee's surprising benefits
Arabica coffee cultivation is acknowledged as a more challenging endeavour compared to Robusta coffee. Robust coffee plants, resilient to disease and capable of enduring for centuries at minimal cost, starkly contrast with the demanding nature of Arabica cultivation. Arabica's sensitive nature demands meticulous care and attention, making it a high-maintenance crop that holds favour among growers for its superior quality.
In Sakaleshpur's western ghats plantations of Hettur, Yasalur, and Hanubal Hobli, where rainfall is abundant, Arabica coffee struggles to thrive. Conversely, robust coffee, known for its cold resistance, dominates 98% of the area due to its adaptability to adverse conditions.
Over the last two years, Arabica coffee holdings have doubled in comparison to robust coffee. This surge in Arabica coffee cultivation has witnessed historical price hikes, enticing several growers to replace robust coffee plantations with Arabica, lured by higher prices.
The current concern among farmers extends to weather conditions, with fears of rain damaging Arabica coffee plantations. The onset of fruits on Arabica coffee plants raises apprehensions about potential losses due to fruit fall or blight attacks in case of continuous rainfall.

Black Coffee to Jeera Water: 7 drinks to boost weight loss journey
The ongoing Arabica coffee harvesting season faces challenges with prices plummeting upon entry into the market, leading to difficulty in selling the produce, resonating the concerns echoed by farmers like Karthik from Bacaravalli village.
The adverse impact of the price reduction in the London market has reverberated in the local market, lamented by coffee merchant Nadahalli Kumar. The plight of Arabica coffee growers in Karnataka highlights the intricate interplay of global market dynamics impacting local agricultural economies.
Last Updated Nov 20, 2023, 1:21 PM IST