1 child dies every 10 minutes in Gaza; Nowhere and no one is safe: WHO Chief pleads for ceasefire (WATCH)
WHO chief Tedros Adhanom Ghebreyesus provided an update on the dire situation in Gaza. Hospitals are overwhelmed with the injured, leading to overflowing morgues and surgical procedures conducted without anaesthesia due to the surge in patients. Tens of thousands of displaced individuals are seeking refuge in hospitals.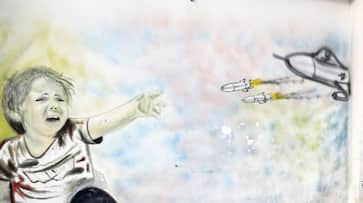 WHO Director-General Tedros Adhanom Ghebreyesus has once again appealed for a ceasefire in Gaza, to prevent further deaths of civilians and further damage to the city's hospitals and health facilities. Dr Tedros said he understood what the children and their parents in Gaza would be going through as he had experienced both scenarios in his lifetime. "The sound of gunfire and shells whistling through the air; the smell of smoke after they struck; tracer bullets in the night sky; the fear; the pain; the loss – these things have stayed with me throughout my life. I know the smell, the image of war. I know what war means," he said.
Dr Tedros gave an update on the ground situation in Gaza, which has been pounded by Israelis since Hamas terrorists carried out a civilian massacre on October 7. He said hospital corridors had been overwhelmed by the injured, the sick, and the dying. Morgues were reported to be overflowing, and surgical procedures were being conducted without anaesthesia due to the overwhelming influx of patients. 
The crisis was exacerbated as tens of thousands of displaced individuals sought refuge in hospitals, while families faced the harsh reality of overcrowded schools, where they grappled with desperation for essential provisions like food and water.
The staggering human toll was emphasized, revealing that over 10,800 people have lost their lives in Gaza, with nearly 70 per cent being women and children. Shockingly, the statistics painted a grim picture of a child losing their life every 10 minutes on average in Gaza. The displacement crisis also reached alarming proportions, affecting 1.5 million people desperately searching for shelter anywhere deemed safe, with no guarantee of finding refuge.
"Nowhere and no one is safe," Dr Tedros said.
Condemning the 'horrific, barbaric and unjustifiable' attacks by Hamas on October 7, the WHO chief expressed concern over the health and well-being of Israeli hostages in Gaza, many of whom are older people, children and those with urgent medical needs.
While calling for the release of hostages by Hamas, especially those in urgent need of medical attention, the World Health Organization (WHO) is urging Israel to reinstate essential supplies such as electricity, water, and, critically, fuel.
WHO's recent findings reveal a distressing situation, with over 250 documented attacks on healthcare facilities in Gaza and the West Bank, along with 25 attacks in Israel, targeting hospitals, clinics, patients, and ambulances. 
Alarming reports indicate that in just one day last week, five hospitals were subjected to attacks. Shockingly, within the past 48 hours alone, four hospitals have been rendered inoperable, resulting in the loss of approximately 430 beds. Tragically, more than 100 UN colleagues have lost their lives, and the situation remains dire. Disturbingly, ongoing reports detail firing incidents outside hospitals like Al-Shifa and Rantisi.
The devastating impact on Gaza's healthcare infrastructure is dire, with half of the 36 hospitals and two-thirds of primary healthcare centres non-operational. Even those still functioning are strained beyond capacity, leaving the health system in a precarious state. Despite these challenges, healthcare workers are somehow persevering to provide essential lifesaving care amid these extremely challenging conditions.
Last Updated Nov 11, 2023, 2:52 PM IST