'Watch what is happening to Hamas': Israel warns Hezbollah amid exchange fire at Lebanon border
This article discusses Israel's declaration of a closed military zone on its northern border with Lebanon following clashes with Hezbollah, as concerns grow about a potential second front amid the ongoing conflict in Gaza.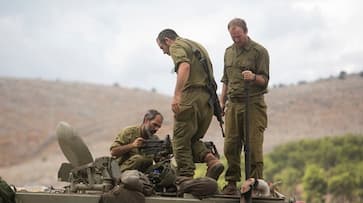 In response to deadly clashes with Hezbollah and concerns of a potential second front in the midst of ongoing Gaza Strip bombardment, Israel has declared its northern border with Lebanon a closed military zone. On Sunday, Israel issued a warning to civilians, urging them to stay at least 4 kilometers (2.5 miles) away from the Lebanese border, emphasizing that approaching closer might result in being fired upon. Residents in border areas, which comprise small rural towns and villages, were advised to remain near shelters.
These developments followed Hezbollah attacks on Sunday morning, causing one casualty and eliciting artillery fire from the Israeli side. Hezbollah claimed its attacks were in response to Israel's strikes into Lebanon the previous day, which resulted in the death of two civilians and a Reuters cameraman who was filming near the border.
Also read: Israel PM Netanyahu convenes emergency cabinet, vows to 'demolish Hamas' (WATCH)
In an interview with ABC News, srael Defense Forces Lt. Col. Peter Lerner said, "We have recruited some 300,000 reservists in order to be prepared for any eventuality. Those reservists are both for the southern front, on the border with Gaza, so they're in staging grounds preparing for a potential ground invasion if the government instructs us to do so. But also, they're dispersed throughout the communities and on the border and frontier with Lebanon [to the north of Israel] in anticipation for potential uptick in violence with Hezbollah."
"We have had several skirmishes along the border over the last few days. And even today, during the day, we've had anti-tank guided missiles fired at forces, indeed causing some casualties. So we need to be prepared," Lerner added. "I would highly recommend that Hezbollah watch very closely what is happening to Hamas and the organization in Gaza as we speak. They should be very cautious of crossing that threshold, because we are determined to defend the state of Israel."
Israel's actions indicate preparations for the possibility that Hezbollah could open a second front and come to the aid of Hamas fighters in Gaza.
Israel has also conducted strikes on Syria's Aleppo and Damascus airports, ostensibly to prevent Iran from entering the conflict through Syria. While Iran has not explicitly threatened to join the war, it has warned of consequences if Israel does not halt its attacks on Gaza.
In a highly coordinated attack last week, Hamas fighters entered Israel, resulting in approximately 1,300 Israeli casualties and an estimated 150 captives.
Also read: Thousands of Israeli soldiers gear up for ground operation in Gaza amid calls for civilian relocation (WATCH)
Israel has since intensified its bombardment of Gaza, cutting off essential services such as water, electricity, and internet access. Israeli forces appear to be gearing up for a ground assault and have pledged to escalate the conflict, with air strikes causing the deaths of at least 2,329 Palestinians, including 724 children.
Earlier in the week, Iranian Foreign Minister Hossein Amirabdollahian warned of Hezbollah's contingency plans if Israel continues its strikes on Gaza.
Human Rights Watch (HRW) confirmed footage from Lebanon and Gaza showing the use of artillery-fired white phosphorus over Gaza City's port and two rural locations along the Israel-Lebanon border on Tuesday and Wednesday. White phosphorus is a lethal chemical capable of causing severe burns and is banned for use in areas with civilian populations according to a United Nations convention.
Also read: 'Everything is okay': IDF's safety reassurance to trapped mother and son after Hamas massacre (WATCH)
Last Updated Oct 15, 2023, 7:39 PM IST