Thousands of Israeli soldiers gear up for ground operation in Gaza amid calls for civilian relocation (WATCH)
The Israel Defense Forces (IDF) have mobilized a significant contingent of military personnel and equipment along the Gaza border as they prepare to launch an all-out ground attack amid the ongoing war with Hamas terrorists.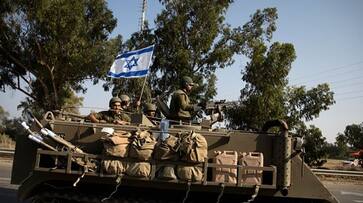 Moments after Israel gave citizens of Gaza three hours to relocate to the 'safer' southern part of the seaside territory amid the ongoing war with Hamas terrorist organisation, videos of Israel Defence Forces (IDF) mobilizing a significant contingent of military personnel and equipment along the Gaza border have gone viral on social media platforms.
Also read: Amid war with Hamas, Israel sets 3-hour deadline for Gaza civilians to relocate as it plans ground attack
On Saturday, the IDF announced its plans to escalate aerial operations with a comprehensive, synchronized attack that incorporates air, sea, and land elements. As of now, no official announcement has been made regarding a large-scale ground invasion into Gaza. However, the Israeli military has been urging residents of Gaza City and northern Gaza to relocate to the southern part of the region, a move that affects a significant population.
The Israeli army is awaiting a "political decision" on the timing of a major ground offensive on the Gaza Strip, military spokesmen said on Sunday. Military spokesmen Lieutenant Richard Hecht and Daniel Hagari said that "a political decision" will set off any action against Hamas after its October 7 attacks that left at least 1,300 dead in Israel.
"We will be holding discussions with our political leadership," Hecht told one briefing.
Please note: Asianet Newsable does not vouch for the authenticity of these videos
In a post on X, the Israel Defence Forces (IDF) said they will not launch any operation on this corridor from 10 am to 1 pm.
"Residents of Gaza City and northern Gaza, in the past days, we've urged you to relocate to the southern area for your safety. We want to inform you that the IDF will not carry out any operations along this route from 10 pm to 1 pm," the Israeli military said.
Also read: 'Everything is okay': IDF's safety reassurance to trapped mother and son after Hamas massacre (WATCH)
"During this window, please take the opportunity to move southward from northern Gaza," it said.
"Your safety and that of your families matters. Please follow our instructions and head southward. Be assured, Hamas leaders have already ensured their safety and that of their families.," it added.
The United Nations has raised concerns over this directive, as it entails around 1 million people leaving densely populated Gaza, which occupies just 139 square miles. The densely populated nature of the region makes mass displacement a complex and challenging issue.
On Saturday, the World Health Organization (WHO) expressed grave concerns, stating that compelling patients to move under these conditions "could be tantamount to a death sentence." In contrast, Israel's military maintains that this order is issued with the safety of civilians in mind as they continue their efforts to target Hamas terrorists.
Also read: Fact Check: Has Cristiano Ronaldo pledged support to Palestinians amid Israel-Hamas war? Here's the truth
This situation underscores the complexity and urgency of the ongoing conflict in Gaza, where densely packed urban areas and a volatile security situation pose immense challenges for both the civilian population and the military. The IDF's approach seeks to minimize harm to civilians while targeting Hamas, but the sheer density of the area makes any large-scale military operation a delicate and high-stakes endeavour.
Last Updated Oct 15, 2023, 4:46 PM IST