Israel PM Netanyahu convenes emergency cabinet, vows to 'demolish Hamas' (WATCH)
Prime Minister Benjamin Netanyahu convened Israel's expanded emergency cabinet for the first time on Sunday, saying the national unity on display sent a message at home and abroad as as the country gears up to "demolish Hamas" in Gaza.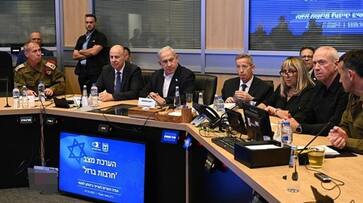 Israeli Prime Minister Benjamin Netanyahu took a decisive step by convening Israel's extended emergency cabinet, marking a significant moment amid the ongoing war with Hamas terrorist organisation. The gathering of this national unity cabinet carries both domestic and international significance, underscoring the country's resolute commitment to addressing the situation in Gaza with the aim to "demolish Hamas."
As the crisis in Gaza continues to unfold, Prime Minister Netanyahu's decision to convene the expanded emergency cabinet serves as a clear message of unity and determination. The assembly of key government officials from various political factions illustrates Israel's collective resolve in the face of the ongoing conflict.
Also read: Thousands of Israeli soldiers gear up for ground operation in Gaza amid calls for civilian relocation (WATCH)
"Hamas thought we would fall apart (but) it is we who will break Hamas apart. Israeli military forces know entire country is behind them and understand this is a fateful hour. Israel's expanded emergency government working around the clock, with a united front," said Netanyahu.
Netanyahu's pledge to "demolish Hamas" is a stark and resolute declaration of intent. It reflects the Israeli government's determination to address the security concerns posed by Hamas and its militant activities. The situation in Gaza remains complex and fraught with challenges, with both sides striving to assert their positions and protect their interests.
The international community is closely monitoring the developments in the region, with concerns over the escalating violence and its implications for regional stability. Netanyahu's message also resonates on the global stage, emphasizing Israel's commitment to safeguarding its security and addressing the threats posed by Hamas.
As Israel continues its efforts in Gaza, it remains to be seen how this commitment will shape the evolving dynamics of the conflict and its impact on the wider region.
Also read: 'Everything is okay': IDF's safety reassurance to trapped mother and son after Hamas massacre (WATCH)
Last Updated Oct 15, 2023, 6:20 PM IST